Growing Up Green! How Vertical Farming Inspires the Next Generation
Read time 10 Mins
Posted on February 10th 2021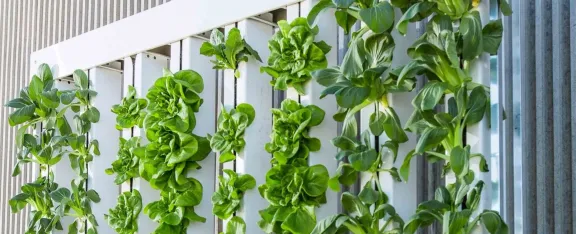 Ask any primary school child what their favourite food is, you will receive a range of answers from the lesser-known pizza and chocolate part of the food pyramid. Adults aren't much different. One answer you might not expect is kale, cabbage, and other leafy greens. However, Rethink Food, in partnership with Glasgow Science Centre, is on a mission to change that.
In a project set to begin this spring, Rethink Food and Glasgow Science Centre will be working together to provide 17 different schools across Glasgow with growing towers.
These growing towers are miniature vertical farms ideal for growing herbs, greens, fruits, and vegetables right in the classroom without the need for soil. While the growing towers themselves look strangely futuristic, this method of growing food, called hydroponics, has been around for thousands of years. The earliest examples include the Hanging Gardens of Babylon, which used an irrigation system to provide a continuous flow of water from the Euphrates river.
While there is evidence of vertical farming in one of the seven wonders of the ancient world, it is only in the past decade that vertical farming has gained such popularity in the modern world. The world's first commercial vertical farm opened in Singapore in 2012. Now, in 2021, Scotland has its own large-scale vertical farm in Aberdeenshire. Even Glasgow Science Centre has a miniature vertical farm as part of the Idea No59 exhibition.
Vertical farming and hydroponics hold a lot of hope for our own futures. Everyone has the right to fresh, healthy, and locally-produced food. In places with dense populations, like cities, the ability to produce more food in less space is extremely valuable.
Food is both the problem and the solution when it comes to climate change. A growing population will demand more of our current food system, which could result in the loss of more natural habitat to make room for livestock and crops. While vertical farming is still very energy intensive, using artificial light rather than sunlight to grow crops such as lettuce, tomatoes, and strawberries, it still has significant benefits.
By bringing young people into the conversation on our food system teaches an important lesson in food literacy. Nathan Atkinson, former headteacher and co-founder of Rethink Food, explained: 'Children begin this programme as scientists, then become farmers, chefs and finally consumers, taking a seed to edible salad in 60 days'.
This project has already seen great success in 16 different cities across the UK. The classrooms that received growing towers from Rethink Food have had the opportunity to explore first-hand how our current food system is linked to our health and wellbeing, the economy and our environment.
When considering our green futures, people need to be at the heart of the conversation. The accessibility of fresh and healthy food is likely to be a challenge as we continue our fight against climate change. By gaining knowledge about what we eat, we end up making better choices for our bodies and the planet. Whether it means reducing food waste, eating sustainably or simply growing our own food.
That is why Glasgow Science Centre's Community Learning and Development team has identified food literacy as a key part of their programme. The team works with different groups across Glasgow like the Hidden Gardens, Ardenglen Housing Association and the Glasgow YWCA centre to deliver workshops on food, energy and climate.
These sessions can run over a number of weeks and have included discussions on health, food miles and the cultural significance of food. Participants commented on how they have changed their shopping and eating habits as a result and have become more confident in their own science knowledge.
UNESCO has identified education as an essential element in our response to climate change. Increasing knowledge and understanding of our climate crisis is crucial to making meaningful change. It is even more pertinent now to acknowledge how climate change is inextricably linked to many of the systems we rely on in our day-to-day lives, including how we feed ourselves. While it will be a difficult road to undoing the damage of decades of dependency on fossil fuels, understanding the problem is our first step to fixing it.
If you would like to find out more about workshops and experiences provided by Glasgow Science Centre's Community Learning and Development Team find us on twitter @TheBothyGSC or email cldteam@gsc.org.uk.
-
This article was published in the Glasgow Times on 29.01.21
Glasgow Science Centre's new permanent exhibition, Idea No59 celebrates the innovative spirit in us all. On your next visit, come and explore the exciting process of taking ideas and bringing them to life.