GSC At Home
#GSCAtHome is an award-winning series of 'at-home' style videos bringing science into your home.
The aim is to keep everyone inspired with exciting demonstrations and things you can try at home with the family. Get creative and have fun sharing science together!

All #GSCAtHome videos are all available here, and on our YouTube channel, Facebook, Instagram and Twitter.
Discover GSC at Home
Ask us questions and let us know what you'd like to see, using the hashtag #GSCAtHome. We love seeing your responses to #GSCAtHome - photos, videos and comments - so please share if you can.
Below, you'll find details of our listings of educational and fun science activities to enjoy and some FAQs about #GSCAtHome.
You'll find all the GSC At Home videos ever made here... plus, you can enjoy our community magazine, The Spark, and listen to A Spark of Science - all available to watch, listen or download from GSC At Home for free...
Our curated #GSCAtHome playlists, feature a curriculum-linked selection of fun science for the family to try at home, or for teachers to use with pupils in the classroom...
Frequently asked questions
#GSCAtHome has been running since lockdown started in March 2020. Thank you for your continued support of Glasgow Science Centre during the global health crisis.
What is #GSCAtHome?
#GSCAtHome is an award-winning online initiative by Glasgow Science Centre to bring a bit of science into your home every day to help keep everyone inspired in these challenging times.
How frequently are they updated?
Through lockdown we shared a #GSCAtHome experience every day at 10am. Since the end of August 2020, we have run GSC At Home specials through two weeks of the October school holidays and a Halloween Spooktacular.
In December 2020, #GSCAtHome presents The Christmas Extravaganza, and a further two weeks of #GSCAtHome experiences through the festive season.
Is GSC At Home live filmed from the centre?
#GSCAtHome is pre-recorded and staff are working from home in-line with government guidelines. Videos pre-recorded at the science centre were filmed before the science centre closed. The safety of our staff is paramount.
Is the content tailored to particular age groups?
Where items are more suitable for a particular age range we will endeavour to make that clear.
How popular is GSC At Home?
The GSC At Home team have made over 100 videos and there have been in excess of 1 Million views!
Thanks to everyone who has watched GSC At Home and all those who've shared the experience with us!
What awards has GSC At Home won?
As well as being loved by families around the UK (and the world), GSC At Home has has received numerous awards and recognition.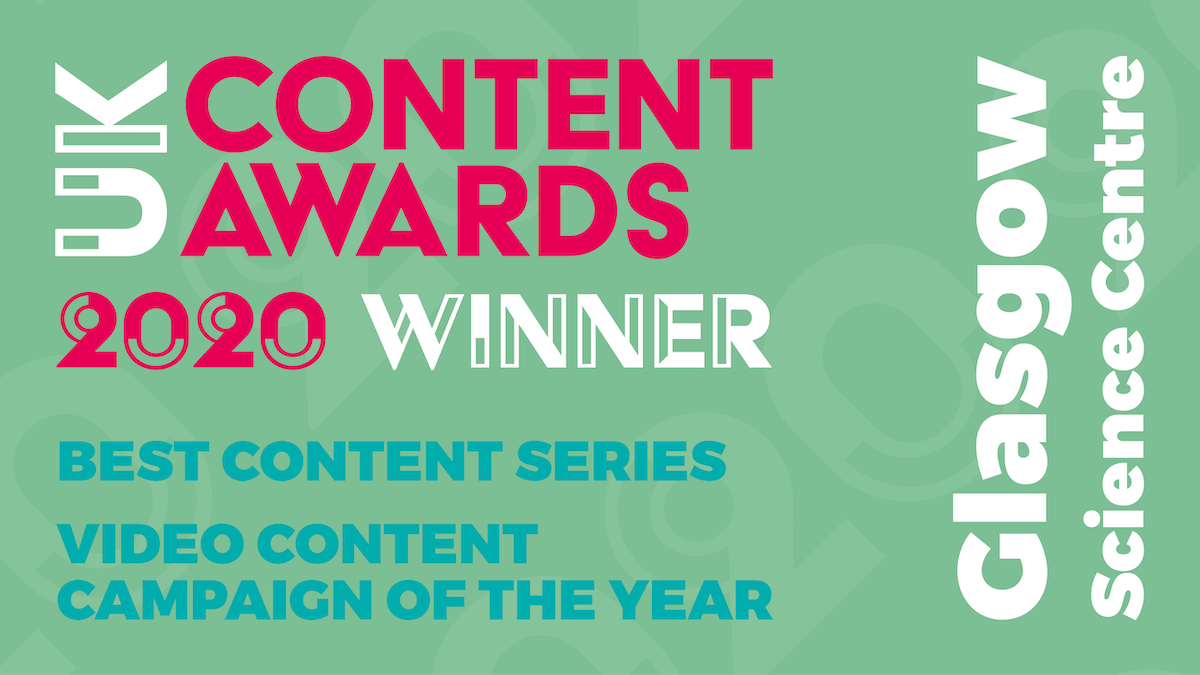 At the UK Content Awards, the series was awarded:
Video Content Campaign of the Year
Best Content Series
We were also highly commended in the 'Social Media of the Year' category.
At the Global Content Awards, the series was awarded:
Best Video content campaign
Best Social media content campaign
Best global content series
At the UK Social Media Awards, we received:
The Highly Commended award for 'Best Audience Engagement Campaign'.
At the Drum Content Awards, we received:
Highly Commended for 'Best Charity Content Marketing campaign'.