Book Tickets
Glasgow Science centre is committed to ensuring a safe, comfortable and enjoyable experience for all. You can view some of the Covid prevention measures that are in place here in the 'What You Need to Know' FAQ at the bottom of this page.
Glasgow Science Centre is currently operating winter hours. We are OPEN on Wednesday to Friday 10am to 3pm and on Saturday and Sunday from 10am to 5pm. We are CLOSED on Mondays and Tuesdays.
---
How to Book Admission to GSC
All visitors are requested to pre-book their visit in advance. During busy periods we may not be able to accept walk-in visits and recommend pre-booking to avoid disappointment. You will be given the option to purchase add-on experiences such as the Planetarium and IMAX 3D documentaries if available while booking your day tickets.
The best ticket option for frequent visitors to the Science Mall is to get our Science Passport. This provides unlimited Science Mall visits for the holder for 1-year. Please note, Passport holders should book their visit using the links below.
On weekdays between 10am to 2pm we regularly have schools visiting, therefore our gallery floors may be busier than normal. We recommend visiting after 1pm during winter opening hours or alternatively at weekends if you would prefer the gallery floors to be quieter.
There is work taking place to replace glazing on the Ground Floor of the Science Mall. Although we are taking measures to reduce the impact to the visitor experience, it is cooler throughout the science centre than normal. We advise visitors that they may be more comfortable to have an extra layer of clothing (such as a jacket or jumper) available to wear, especially during the winter months.
Our main café is currently operating from the Clyde Suite on the Ground Floor at weekends and local school holidays. This temporary move is to allow for essential work to glazing in the cafe area. During this period of work, you do not need to pre-book your table or food online.
Our fabulous Coffee Shop on the ground floor in the IMAX Theatre at Glasgow Science Centre is also open weekdays from 8am and at weekends from 9.30am. It sells a selection of hot and cold drinks, cakes and pastries, sandwiches, toasties and treats.
Please follow the step below to complete your booking to visit the science centre. Once you have added items to your basket click 'continue shopping' to return to this page if required.
Book Your Visit
Get a Science Passport
Frequent visitor? Our 12-month membership provides unlimited Science Mall visits. Apply online now, then complete the step below.
Book Admission Tickets, Parking and add on tickets*
Above booking for all day visitors and Science Passport holders
14.20 arrival Science Passport
Our 14.20 arrival slot is reserved exclusively for Science Passport holders
* add on tickets for Planetarium and IMAX 3D documentaries cost £3.00 per person and will be available during the checkout process if available
---
Booking other Experiences at Glasgow Science Centre
Imax Theatre at Glasgow Science Centre
The IMAX Theatre at Glasgow Science Centre is the huge, shimmering silver building that stands next to the main Science Mall. It's home to Scotland's biggest, most awesome screen, so no matter what you see here, it's bound to be a blockbuster! Our Box Office for IMAX feature films is powered by Ticket Tailor.
More information and booking feature films
Newton Flight Academy
Discover the science of flight as you take-off at the controls of a light aircraft under the reassuring guidance of our flight instructors. So, whether you've had any experience of a simulator before or are totally new to piloting you're sure to have an unforgettable time from check-in to final landing.
More information and booking Flight Simulator Experiences
What you need to know
Glasgow Science centre is commited to ensuring a safe, comfortable and enjoyable experience for all. Below is some key information about visiting
On the day of your visit
Bring your booking reference number. You do not need to print your email or show it on your phone as long as you have the reference number.
If you have a Science Passport, gift voucher or corporate ticket please bring it with you. If you have booked a carer ticket, please bring proof of carer status.
You will get a ticket on the way into the car park, please bring this to the ticket desk with you.
There are ongoing building works around the outside of Glasgow Science Centre. When you arrive onsite, please follow signage and direction from staff to bring you safely into the science centre.
Please try to arrive as close to your time slot as possible. If you are early or late you will still be able to visit, and staff will advise on arrival.
The map below shows arrival routes into Glasgow Science Centre when walking, cycling or wheeling.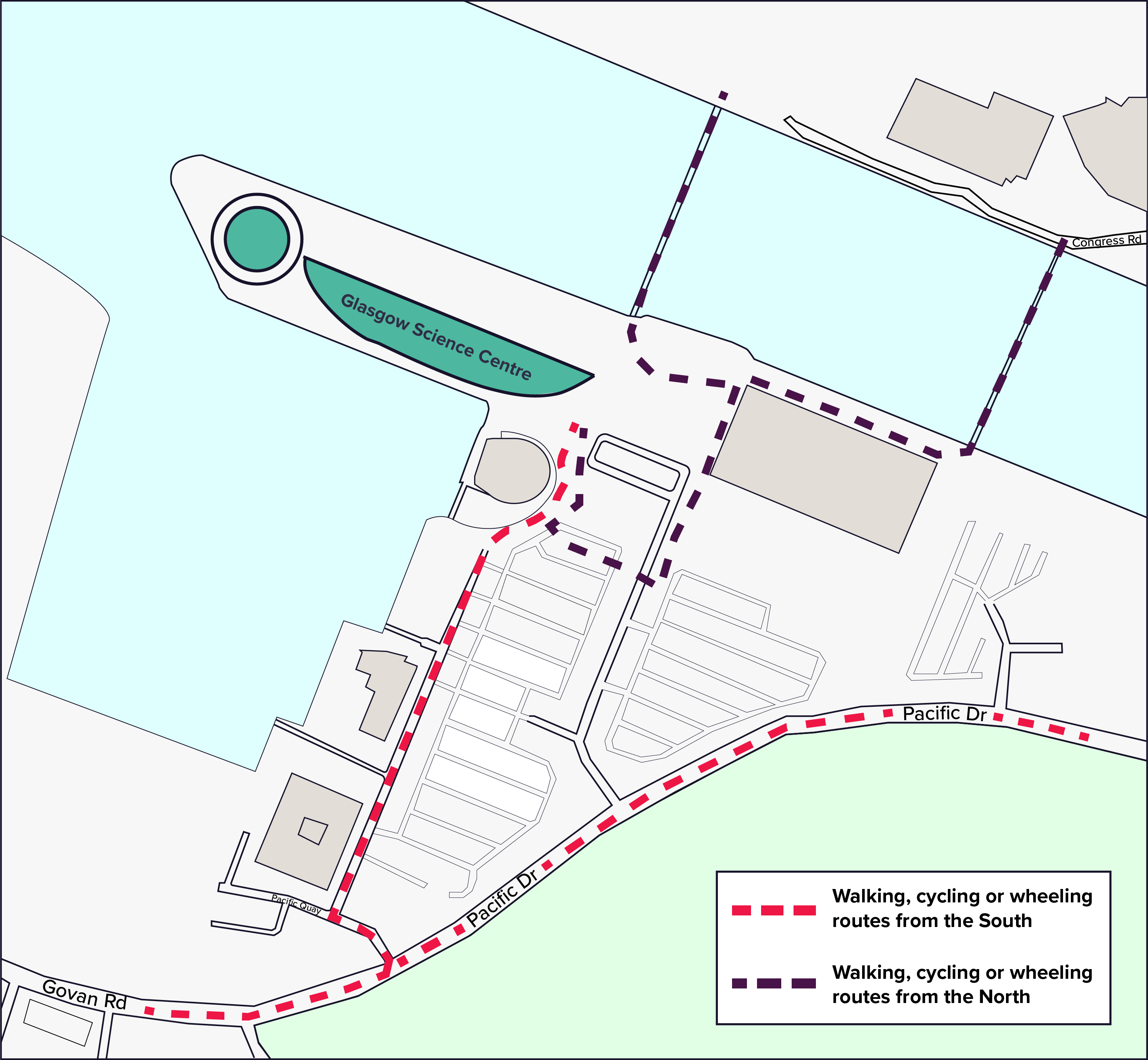 What Covid measures do you still have in place ?
To help reduce queues and monitor capacity visits need to be pre-booked in a timeslot. During busy periods we may not be able to accept walk-in visits and recommend pre booking to avoid disappointment.
We ask that when visiting you remain Distance Aware and respect others space where possible.
Enhanced cleaning regimes remain in place and there are hand sanitisation stations are available throughout the building. Please note that some areas may be temporarily closed to allow our staff to follow our cleaning regime.
Sneeze screens have been installed at all till points.
We ask that you do not visit if you feel unwell or are experiencing symptoms of Covid- 19. If you have already booked, please contact us as will assist you.