Can eating seasonal food improve health and reduce greenhouse gas emissions?
Read time 3 minutes
Posted on October 14th 2021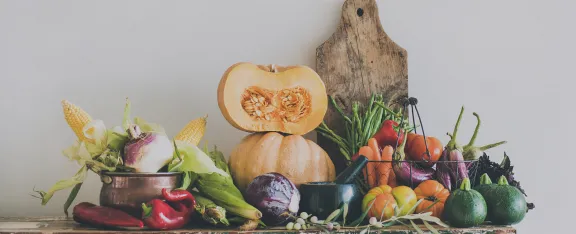 Did you know, some foods have a higher nutritional value when they are in season? For example, oranges contain the most amount of Vitamin C when they are in season. An important consideration to take when choosing whether to eat locally seasonal foods is if there is enough diversity in the nutrients available.
In the UK, the range of locally seasonal foods is quite limited and so there is a risk of not eating a well-balanced diet. For this reason, it may be better to eat globally seasonal foods.
To combat the lack of diversity in foods over winter, food can be preserved and stored. The preservation methods can even make the foods better for us. The nutrients in tomatoes become more readily available for our bodies to absorb when they are preserved before eating.
Find out more about what 'seasonal foods' are and recipes using autumnal foods.
Food and greenhouse gas emissions
The greenhouse gas (GHG) emissions associated with animal agriculture and growing crops accounts for 26% of the total GHG emissions across the world. As the build up of GHGs contributes to global warming, looking at how we feed our plant will be key in tackling the climate crisis.
In the UK, on average people eat less than half of the recommended amount of vegetables. This is leading to the population being high risk for a number of diseases. By prioritising fruits and vegetables in our diets, we can protect against these diseases and, because emissions associated with growing crops are lower than those for producing meat, we can reduce our carbon footprint.
The emissions associated with transporting food from the farm to you are much lower for local seasonal food. However, it is worth noting that only 18% of the emissions associated with food production are attributed to processing and transport, therefore it much more important to consider what you eat rather than where it comes from.
These types of considerations can be taken when aiming to reduce the carbon footprints of our diets. It may work out that the GHG emissions of foods grown abroad and transported to the UK are lower than those grown in greenhouses in the UK.
On the 23rd of September 2021, the United Nations held the first UN Food Systems Summit in which UN members and people around the world (including youth, food producers, civil society, indigenous people and private sectors) discussed how the world would transform the way it produces and consumes food. The summit ended with world leaders agreeing to "actionable commitments" that will allow them to deliver progress on all 17 of the UN Sustainable Development Goals.
These discussions will feed into the debates at COP26, the UN International Climate Change Conference which will take place in Glasgow from 1st to 12th of November 2021. One of the key goals of this conference is to build resilient infrastructure and agriculture to avoid the loss of homes, livelihoods and lives.
Our World, Our Impact - The Hub
Explore our the Our World Our Impact Hub for information on food waste and climate change education.