Science comes of age as centre celebrates 21st birthday
Read time 5 minutes
Posted on April 20th 2022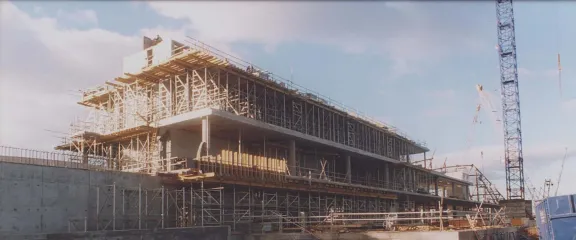 Glasgow Science Centre's stainless steel-clad buildings on the Clyde-side are an iconic part of the Glasgow skyline and one of the city's best-loved attractions. As the centre approaches its 21st birthday this summer, we hear from three scientists who were there when it first opened its doors. Some of their favourite memories are truly out of this world…
---
If the River Clyde could speak, it would have many tales to tell of the changing face of the city.
From a hub of shipbuilding industry to the hubbub of the waterfront regeneration, the ebb and flow of Glasgow is written on the Clyde-side. Nearly a quarter of a century ago, the newspapers were filled with reports of a science centre to be built on the 12-acre former site of the Glasgow Garden Festival. There were to be three buildings – the Science Mall (which would also house a glittering planetarium dome), the IMAX cinema and the Glasgow Tower. It is almost impossible now to imagine the city's skyline without the science centre's famously photogenic curves.
One person who remembers when Glasgow Science Centre was a glimmer of potential is Dr Robin Hoyle, now Glasgow Science Centre's director of science. Hoyle was working at Glasgow University when somebody showed him the artist's sketch of Glasgow Science Centre. The image is singed into his brain. "The buildings looked incredible, like nothing the city had ever seen. I just knew I had to work there," says Hoyle, "I was struck by the idea that we would really be creating history. Glasgow had such a rich scientific heritage and culture but how would we create a whole centre to engage and excite people about science? It was a blank sheet. We couldn't have foreseen just how much the world would change and how much we would also change and adapt over 21 years."
The idea of breaking new ground is echoed by physicist Dr Gillian Lang, the centre's longest-serving employee and now deputy director of science. She affectionately recalls days working in a building site as the centre took shape on the riverside. Despite the mud, there was a sense of being a science pioneer: "There were very few science centres in the UK before the millennium, so it was a really new thing." explains Lang. "People didn't know what to expect- including us! But we were ready to take on the world. We were writing the manual of how to operate the science centre. There were lot of ideas, enthusiasm, positivity, and a tremendous willingness to work together to create an exceptional science engagement experience."
The Science Mall was filled not just with interactive exhibits but with an interactive team of 'science communicators' eager to communicate science in a new way and engage with the public, busting myths about science along the way. The science communication team was easily spotted in its bright sea of coloured t-shirts. One of those new science communicators, proudly wearing his blue t-shirt, was astronomer Steve Owens: "I travelled down from Inverness to drop off my CV. In fact, I dropped off my CV three times, that's how keen I was to work at Glasgow Science Centre!" Owens laughs. As his career progressed, he was heavily involved in creating live science shows "It's great to see the reaction of live audiences as they are enthralled by science up close."
As a professional stargazer, the development of the Planetarium is a particular highlight for Owens. The dome allowed city-dwellers to appreciate the magic of a perfect blanket of stars, often for the first time. The star dome has hosted a stellar roll call of visitors with astronauts from the space programme including Alexei Leonov - the first person to walk in space and astronauts Dr Bonnie Dunbar and Chris Hadfield who have all spoken under its glittering skies.
In the run up to the 21st birthday, Lang feels proud of how the centre has grown, adapting to challenges over the years and securing funding for significant redevelopment: Enthusiasm for science is like a thread running through the past 21 years. "I feel the same excitement and optimism about the centre now as we emerge from the pandemic as I did 21 years ago. With all the work that we've done to upgrade, it feels like a new centre again and with visitors returning that anticipation is there again too. We are in a better place than we've ever been with so many new exhibits and facilities including the newly opened Newton Flight Academy bringing yet another new way to engage with science."
After over two decades and nearly 6.5 million visitors, Robin Hoyle reflects that the centre really does belong to Glasgow: "We are constantly working hard to improve access. There has been a great deal of investment which has seen us create science gardens and outside exhibits. We have used the surrounding moat to create thriving wetlands. We want to become part of everyone's day to day life. It is remarkable to see how locals are using our outdoor space for yoga or dog-walking or skateboarding or even just for a cup of coffee. The science centre is here for all. We want to leave a little spark of science within everyone - even if they just are passing by. I hope we can continue to do that for the next 21 years and beyond.".
---
Further information
This blog post, written by Claire Gemson, is adapted from an article that first appeared in Glasgow Times in April 2022.
Celebrating 21 years
Glasgow Science Centre is 21 this year!
As part of the 21st birthday celebrations, we'd love to hear your favourite memories of Glasgow Science Centre. Find out more by clicking the button below.