New chapter in Scotland's aviation story
Read time 5 minuets
Posted on April 4th 2022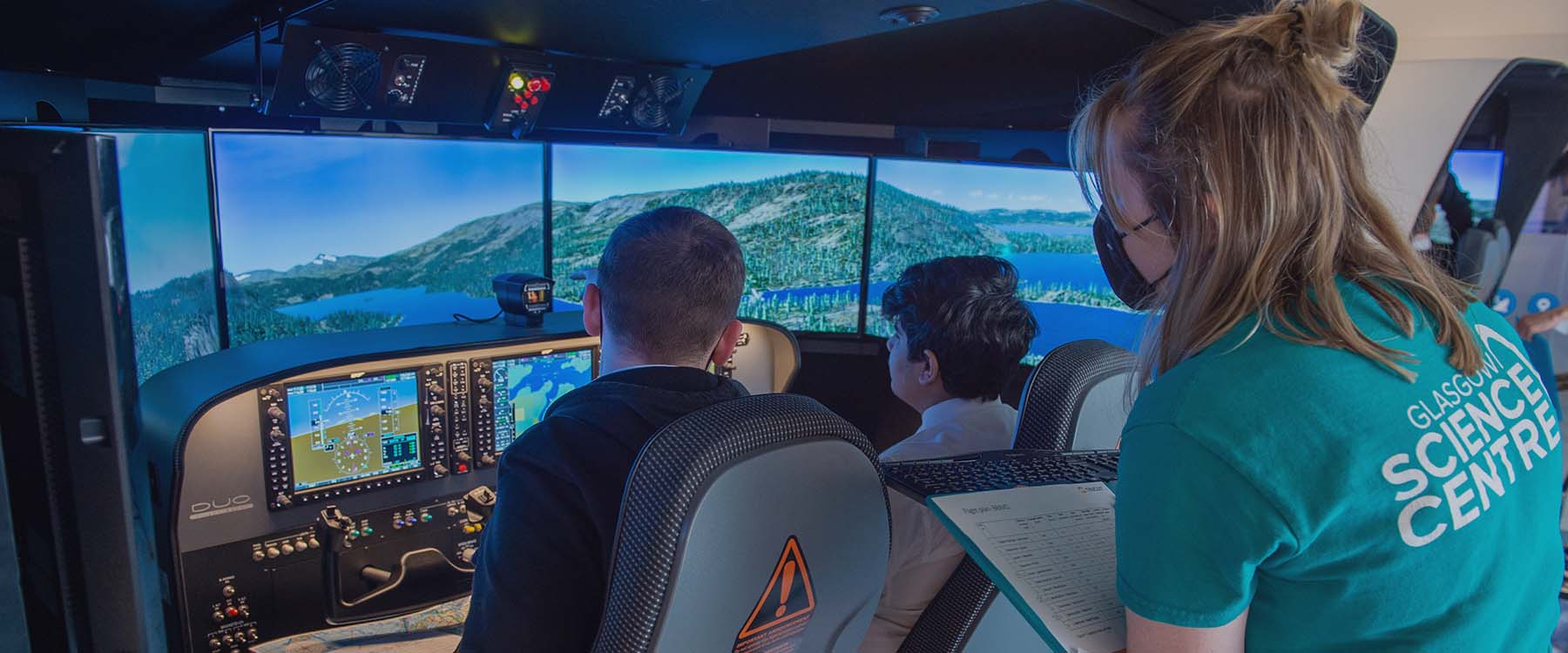 Scotland has a long and storied history of aviation and aerospace engineering, and this Easter the latest addition to that story, the Newton Flight Academy, opens in Glasgow Science Centre. Featuring three state-of-the-art, full-motion flight simulators, the Newton Flight Academy looks to inspire the next generation of scientists and engineers who will move us towards a more sustainable future of aviation.
Opening up the Science of Flight
The Newton Flight Academy was officially opened by First Minister Nicola Sturgeon on Tuesday 29 March, and from Saturday 9 April visitors can fly the virtual skies above Glasgow in 30-minute flight experiences, guided by Glasgow Science Centre's flight instructors. School pupils from across Scotland will also be able to develop their STEM skills as innovators and aviators in all-day workshops, working in teams during a rescue mission in the North Sea.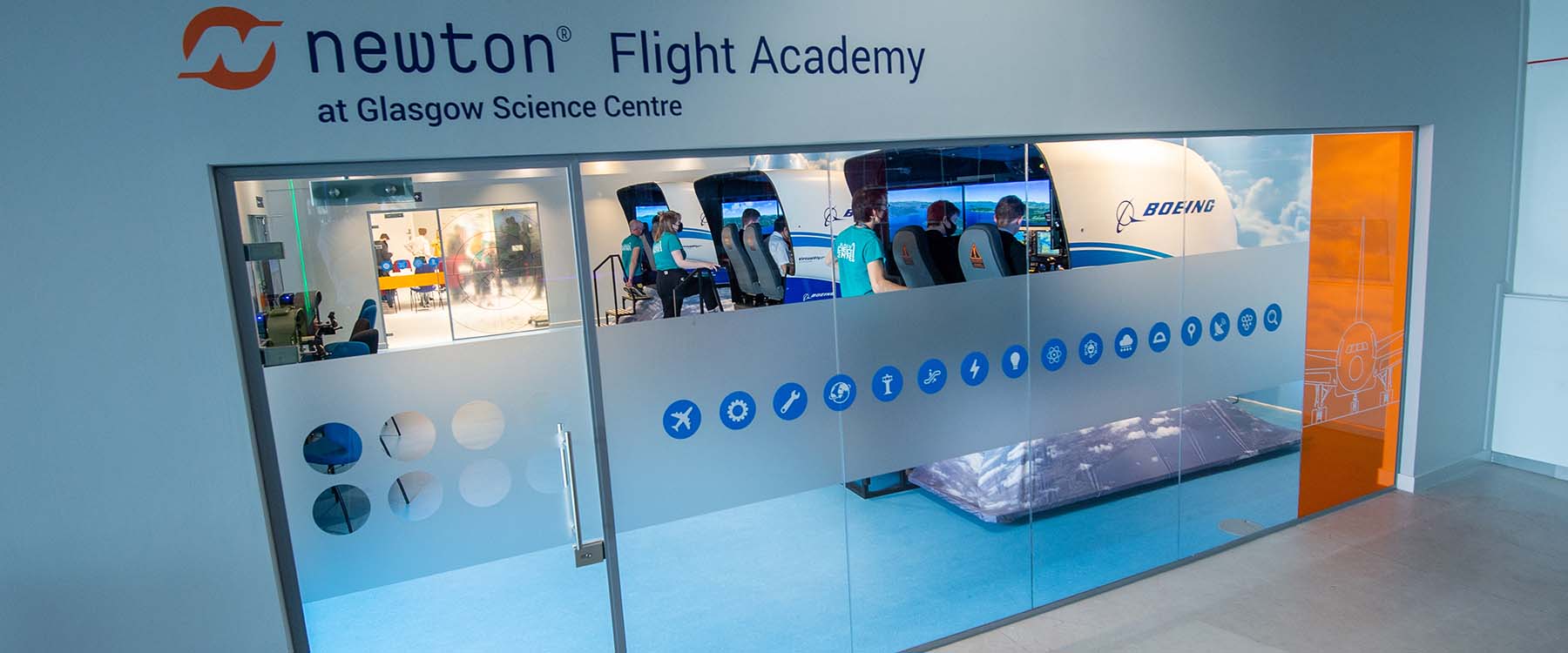 Developed in partnership with FIRST Scandinavia, made possible through an investment from Boeing, and supported by University of Strathclyde and Mathworks, Glasgow Science Centre's newest attraction is the first Newton Flight Academy in the UK, and only the second in the world.
Taking off from Glasgow in the Newton Flight Academy flight simulators, budding aviators might fly over Renfrew, home to Glasgow's first airport, the Renfrew Aerodrome where, in 1933, the world's first female commercial pilot, Winnifred "Winnie" Drinkwater, worked as an engineer and pilot.
World's First Female Commercial Pilot
Born in 1913 in Waterfoot in East Renfrewshire, Winnie was an innovator herself. She learned to fly at a young age, training with the Scottish Flying Club shortly after her 17th birthday. Two years later she gained her commercial pilot's licence, before flying routes from Glasgow to Campbelltown and London.
Back then Winnie and her fellow aviators would have flown in bi-planes – aircraft with two wings stacked one atop the other – and the skies above Renfrew Aerodrome would have been a-buzz with the sounds of small propeller planes taking off and landing. Although now covered over by the M8, the line of the old Renfrew Aerodrome runway is still noticeable, as the straight section of motorway between Braehead and the current Glasgow Airport.
Visitors to Newton Flight Academy at Glasgow Science Centre will fly more modern small propeller aircraft, learning how to take off and land, while in between enjoying views of the city unhindered by cloud or rain, but perhaps gently buffeted by turbulence, expertly recreated in the full-motion flight simulators.
Just as aircraft have evolved from the biplanes of Winnie's day it is advances in science and engineering that will bring about future innovations in aviation. Decarbonising air travel – switching from current petroleum-based aviation fuels to sustainable aviation fuels, alongside electric propulsion – may allow us to reduce our air travel carbon footprint.
Commercial Hybrid Electric Aircraft
Last summer saw the first time that a hybrid electric aircraft flew a commercial route in the UK. American firm Ampaire's EEL aircraft, a six-seater Cessna 337 modified with a hybrid electric propulsion system, flew between Kirkwall Airport in Orkney and Wick John O'Groats Airport on mainland Scotland in a week of test flights over the Pentland Firth.
Kirkwall Airport is home to SATE, the Sustainable Aviation Test Environment, which in addition to trialling hybrid electric planes like the EEL, is also testing hydrogen and synthetic fuel technologies for aviation, as well as UAV (unmanned aerial vehicles) which might be used to deliver medical supplies directly to hospitals.
Recently Boeing have joined NASA and GE Aviation in a five-year project to develop a megawatt-power hybrid electric propulsion engine that would power a larger single-aisle aircraft, with Boeing set to modify the aircraft where this new technology will first be tested in the air.
Scotland's Spaceports
And Scotland is poised to take another giant leap forward with sites such as Prestwick Airport looking to the stars as they bid to become a spaceport, with space travel set to become as important as air travel is today. These proposed spaceports will be home to commercial space launches, allowing us to launch satellites more efficiently and closer to home – Glasgow after all makes more satellites than anywhere outside of California – as well as opening the way to space tourism, with passengers enjoying flights into space, taking off and landing at spaceports across Scotland.
The technological innovations needed to make all of this happen have already begun, but it will take the next generation of scientists and engineers to develop these new technologies further. And it is in places like Newton Flight Academy at Glasgow Science Centre where the Winnie Drinkwaters of tomorrow may first turn their eyes to the skies.
---
Further information
This blog post, written by Steve Owens from Glasgow Science Centre, is adapted from an article that first appeared in Glasgow Times in April 2022.
Newton Flight Academy
Take an unforgettable virtual flight in our state-of-the-art full motion simulators! Visit Newton Flight Academy at Glasgow Science Centre.