Our wonderful world of wetlands
Read time 8 minutes
Posted on August 9th 2021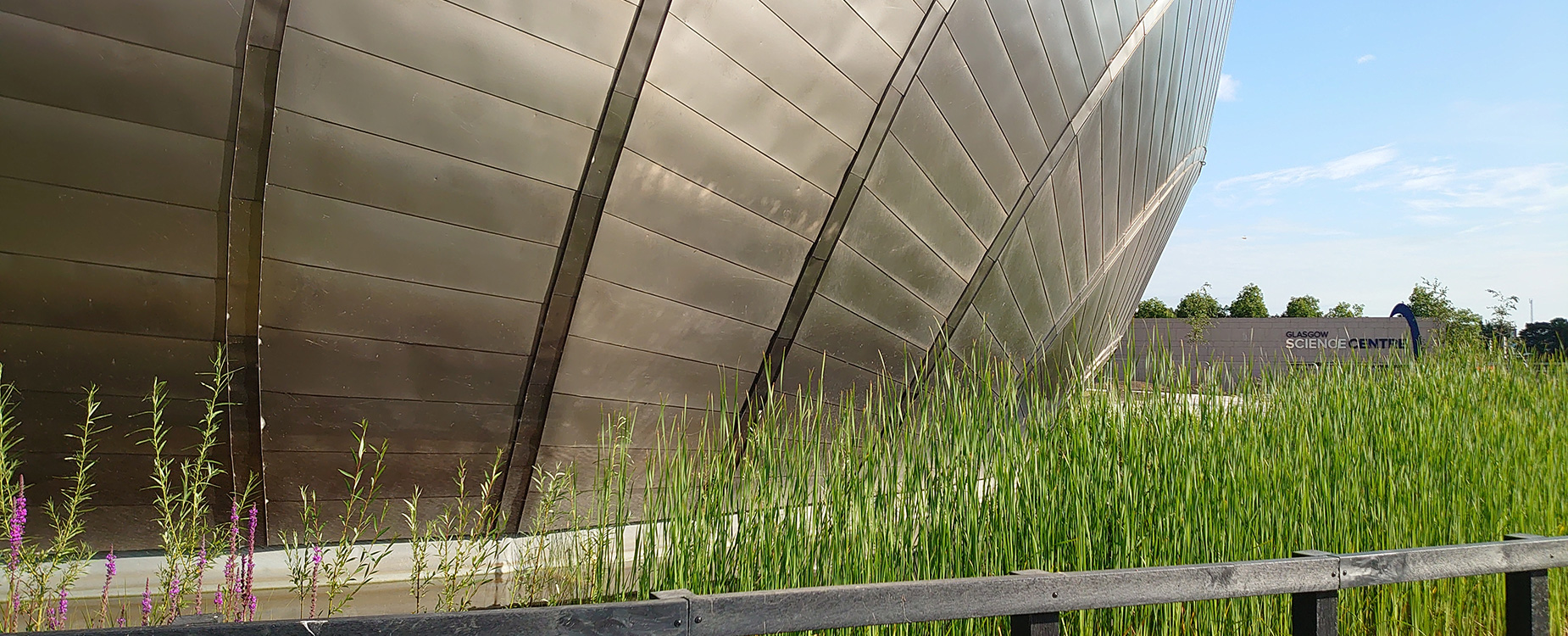 From humble industrial origins to worldwide ship building powerhouse. From relative neglect, to 1988 and flourishing as host to the extraordinary Glasgow Garden Festival. Pacific Quay has been an ever-evolving space in our city, changing with the times to meet the needs of Glasgow and its sprawling and diverse population.
In 2001 the site underwent one of the greatest changes in its history, becoming home to Glasgow Science Centre, with its attractive visitor centre and infamous Glasgow Tower.
20 years on and the site is once again in the throes of renovation, boasting a suite of new features and attractions tailored for the Glasgow of 2021, host city to COP26.
Possibly the most striking of changes to be noticed by returning visitors will be the cultivation of the new wetland area. In collaboration with Nature Scot, works have been carried out to bring life to the site in the form of fifteen aquatic plant species. Installed along the building's perimeter, these plants (including water lilies, goat willow, water mint and more) are hoped to mimic the environment provided by Scotland's natural and expansive wetland habitats.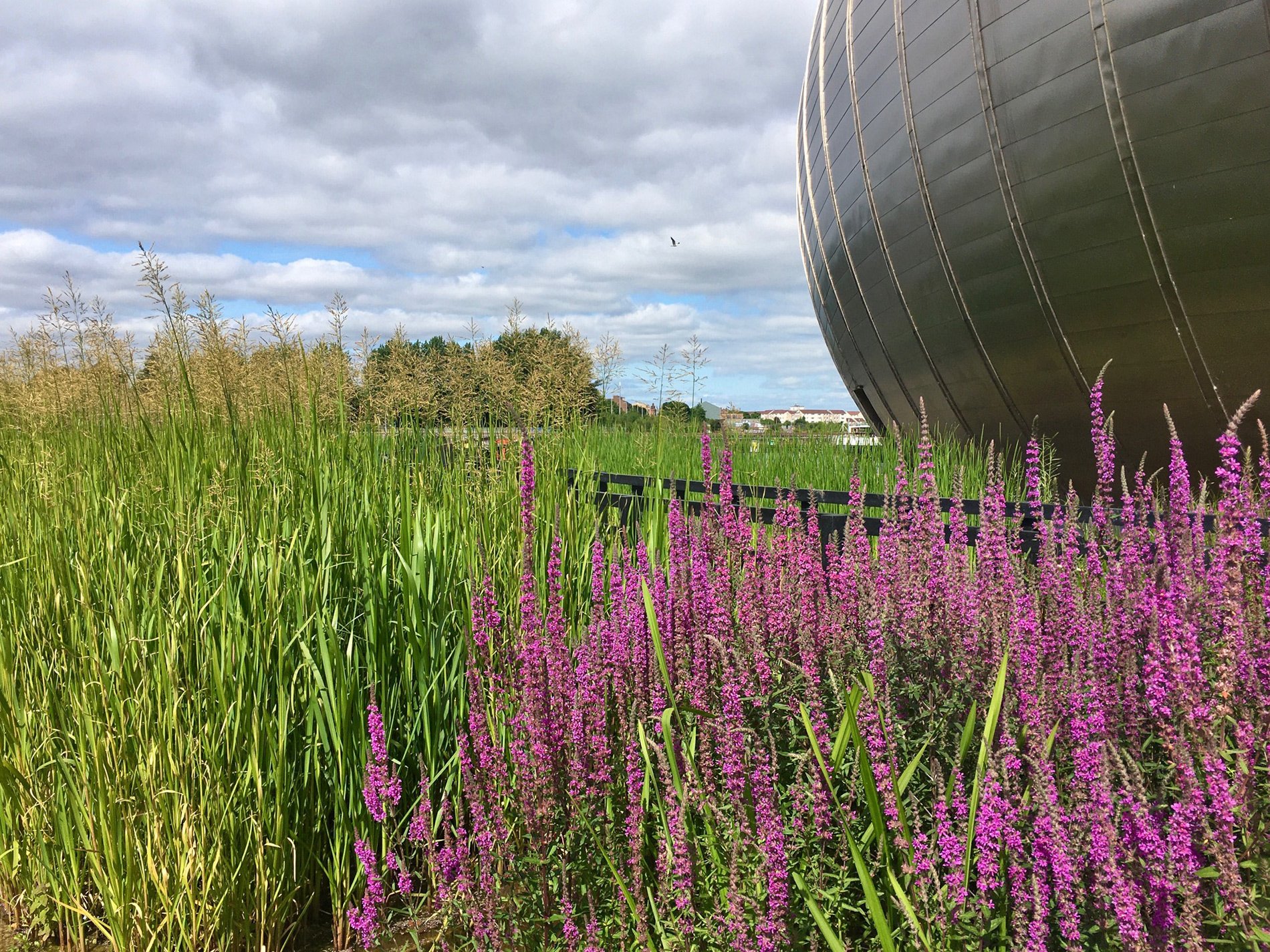 Covering 3% of the UK's landmass, wetland is a blanket term used to refer to water logged ecosystems such as bogs, swaps and marshes. Asked to close your eyes and picture Scotland, the image you settle upon is likely to be that of a wetland, with it's rolling acres of sodden vegetation, alive with ground nesting birds and majestic stags, weaving tones of brown and purple, stretching towards distant hills. Not only do wetland habitats give Scotland it's signature scenery, but they are also of vital importance to the climate.
Formed over centuries, peat stores collect in damp and low oxygen conditions, trapping in their mass vast amounts of greenhouse gases. In Scotland alone, the amount of carbon stored in natural peat reserves is estimated to be at the level of around 1.7 billion tonnes, equivalent to 140 years of emissions. In tandem with this function, the areas play a key role in protecting the country from issues of flooding, a benefit which cannot be underestimated. Lastly, wetlands are extremely biodiverse, acting as nest, nursery and pantry to thousands of insect species, amphibians, birds and more, and it is this aspect more than any other that the new outdoor space hopes to replicate.
The lush and green border is typical of the new developments being brought to the Clydeside, an open and free form environment in which visitors can play, explore and learn in a manner which is accessible to them. Indeed, you could be forgiven in thinking Glasgow Science Centre has been turned inside out, as exhibits appear to sprawl out onto the surrounding streets and pathways. With the fresh new layout comes a newfound opportunity to bring content literally right out into the local community, blurring any potential barrier which could separate participation from exclusion.
In addition to the site's physical transformation, a newly available exhibition has been curated brimming with practical science experiences of the kind Glaswegians have come to expect from the centre. Amongst the new attractions is the visually striking "turning stone". Situated atop a rotating base, the turning stone can be best described as a very large bolder. With grooves running along its edge, inquisitive minds are invited to try and push the cumbersome rock round on its pedestal, to see how fast they might set it spinning. The stone is a practical lesson in energy, weight and force, giving visitors a feel for how these things are related.
The outdoor exhibition also includes a selection of optical illusions to confuse and amaze, a whirlpool demonstration and even a walk-in kaleidoscope. While those who like things with a little more ruckus are encouraged to make some noise with the many percussive exhibits, from the sweet shining tones of the steel drum, to the chaotic clatter of the aptly named kling klang disc. No matter your interests, opportunities to learn and play are all around.
Set for completion later this month, Glasgow Science Centre's new outdoor space is interactive, accessible, and greener than ever. Bringing fun and learning out into public spaces, the project is part of the charities mission to promote inclusivity as an integral part of Scotland's future. Fittingly, this journey has begun right at the front door.
---
This article is adapted from one written by Glasgow Science Centre's Ruairi Fraser for Glasgow Times.