Our first year supporting Foundation Apprenticeships
Read time 10 minutes
Posted on April 29th 2021

Glasgow Science Centre (GSC) embarked upon a pilot programme to support young people complete a Foundation Apprenticeship in 2020. The impact of Covid-19 resulted in the programme being delivered virtually and this provided an opportunity for GSC to support more young people than initially planned. The intention was start with 2 or 3 Foundation Apprentice's (FA's) however GSC ended up supporting a total of 15 FA's in their first year!
The frameworks GSC supported included Creative and Digital Media, Engineering Systems, Business Administration and Scientific Technologies. GSC recruited its first batch of Foundation Apprentices (FAs) in September 2020. In order to give the apprentices as much real-world experience as possible, they all had to prepare a job application and also underwent a job interview process.
The Impact
Despite the virtual nature of the placements it has been widely felt by both the FA's and GSC staff involved in the programme that GSC's use of real-life issues meant they were supporting real life work issues. The FA's have made a valuable contribution to GSC's outputs and this has increased their enjoyment and confidence. It has given them the opportunity to work with different people, develop professional skills such as interviewing skills, and opened their eyes to the opportunities available to them.
GSC have benefited from the ideas and perspectives of the apprentice's and this has been helpful in raising awareness of how young people perceived the Centre and what messages and platforms might be particularly effective in targeting some audiences. GSC staff involved have really enjoyed getting to know the young students and watch their skills and confidence grow. It has also contributed to their professional development and leadership skills.
Meet the FA's
Ross, Shakira, Rahma, Ewan, Owen and Oliver have been on placement with GSC since September 2020. Ross, Shakira and Rahma are studying creative and digital media while Ewan is studying business administration. They are working with GSC's Comms & STEM Futures teams and have been creating all sorts of online content and have also provided input into GSC's education programmes.
Owen and Oliver are studying engineering and have been working with GSC's Facilities team to look at practical engineering applications.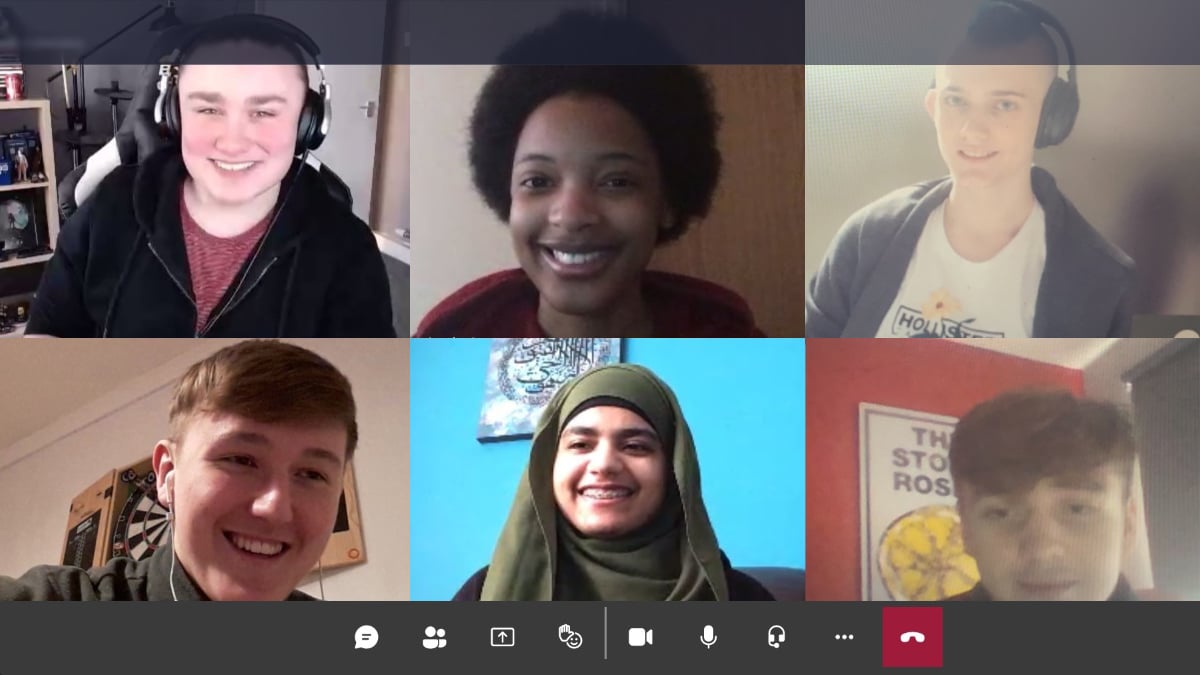 Here is what they have to say...
What attracted you to doing a Foundation Apprenticeship at Glasgow Science Centre?
Ross: What attracted me to the FA in the science centre was the creative part of it and the fact that I would be working with equipment that I already use, and the possibility of learning new tricks and gaining knowledge on how to do things better more efficiently.
Shakira: I got recommended for this placement, and it's been a great choice as I really like it. I had heard bits and piece about the science centre before I came but didn't know fully what it was all about until we started our placement.
Ewan: I liked the sound of it when I heard that it wasn't all academic based, that you actually got to do work and have a real experience of work.
Rahma: We had to go through an interview process, I had to do research on GSC. For everyone it was our first formal interview, I was so nervous for this, I thought the interview was going to be so strict, but you guys were so friendly it was great. This will help us in going for interviews in the future.
Oliver: The foundation apprenticeship is a really good way to ease myself into what I want to go on to do in the future.
Owen: The apprenticeship has given me experience in a workplace engineering environment and they have really helped me to apply for other opportunities. I would not have been aware of closing dates or applied for other apprenticeships if it wasn't for this work experience at Glasgow Science Centre.
Tell us more about your foundation apprenticeship and the job you do.
Ross: My role is the editor, so people give me their footage and their recordings, and I put it all together and create the final presentation of how everything looks and the final product.
Shakira: We all do the scripts together and we each go off and record our own thing and then Ross edits to create the final version.
Ewan: At the start I was more sort of administrative and now I'm working more with the creative & digital team to work together and get better results. I enjoy working with the rest of the team to create content., My role is organising things, it has been much more enjoyable working with other young people my age on these projects.
Rahma: The first year of college we did animation, podcasts and filming and I guess we used a lot of the skills we learnt in the first year at the science centre in a work environment. The placement at the science centre has helped a lot as I now know what a job is supposed to be like, especially in the creative industries. I've always wondered what that was like and now, I know. I enjoy using my animation skills in the projects we are working on.
Owen: We are working on three different engineering projects at the science centre. We have completed two already - work on the roof and the issues surrounding that and the other one is working on the lighting of the building to help us understand different types of lighting and how it relates to energy efficiency.
When choosing your apprenticeship what influenced your choice and how did you get information?
Ross: For the course in general I already had an interest in the fields it covered, like film and TV. I was doing them as a hobby, and I wanted to go in and learn more and the science centre has helped me to do that.
Shakira: My career advisor recommended it to me as I was interested in creating content and animation. She said the foundation apprenticeship is for you, and now I'm here at Glasgow Science Centre and things are just working well, everything is just great.
Ewan: My school had a course directory for courses in S6 and the Foundation Apprenticeship seemed interesting and after that, I went to my pupil support teacher and he helped me apply.
Rahma: I had originally wanted to be an architect as I am good at maths and drawing, but after studying graphics at school I found out I didn't like the technical drawing side of things, so I went to the careers advisor to get advice. That's when she told me about the Creative and Digital media Foundation Apprenticeship. It's good as I wanted to draw and be creative without restrictions and the apprenticeship allows me to do this via animation.
Owen: I found about doing a foundation apprenticeship at a careers fair at school. I got the booklet and saw the engineering systems and was really interested in it.
Oliver: I went to an open day at school as I was struggling with what I wanted to do. That's when I found out this was an option.
What are the main benefits of doing a Foundation Apprenticeship?
Ross: Being able to have experience in a workplace and be less restricted than at school, as a lot of the school stuff you need to do things in a certain way, but with this, there are multiple ways to go about a project, and it opens you up to being able to look at things from different angles and to be creative.
Shakira: You get treated as an adult more and get the experience to work with people who have the same interests as you; everyone is so easy to get along with. It's different from school as we are doing it because we enjoy it, we are more motivated to do the work because we are passionate about what we are doing.
Ewan: I like the practical elements; I like it because it is a real-life hands-on experience.
Rahama: I now know how to animate better. At the start I didn't know how to do that at all, but the lecturer was really great, it made me really like animation and I have found a thing I really like doing, and I can use these skills on the content we are creating at Glasgow Science Centre.
Owen: In my school we don't have any subjects relating to engineering; you can take physics, woodwork, graphics, but there is not an actual engineering subject you can take. I think being able to study engineering and get the work experience at the same time, is a better experience and will help me gain a job in engineering.
Oliver: The benefits are that you can get it done when you are still in school so you're saving those two years because you don't need to leave school, go to college for two years and then apply for an apprenticeship. So you're saving time and boosting your experience in order to apply for engineering jobs.
---
Did you Know?
Glasgow Science Centre is a charity and one of Scotland's most successful visitor attractions with five-star Visit Scotland accreditation. The centre attracts over 330,000 visitors to its exhibitions and events each year and regularly takes its science activity on tour across Scotland. GSC currently employs over 200 members of staff.