National Coding Week: My 'Hour of Code' by Allan Gray
Read time 2 minutes
Posted on September 18th 2018

As a millennial and smartphone addict you may think that coding knowledge is familiar territory to me, but it's not. In fact, I have always been intimidated by computer science, imagining it as a secret language and picturing coding as something for far more intelligent people tucked away in some MIT lab.
This attitude towards coding could not have been further from the truth. Last week I attended the 'Hour of Code' workshop at Glasgow Science Centre, a gentle introduction to coding through games, puzzles and problem solving. The games objective is to lead a Minecraft style character through obstacles by coding together instructions. It was communicated in clear language and with interactive games that made the whole thing understandable and fun. The GSC team were on hand to help steer me in the right direction and lead me through the puzzles which was great. They also helped me to connect the dots between the games and how the rules and solutions related to real world examples like coding software, websites and even video games! It's a great way to dip your toes into the world of coding and understanding how it all works!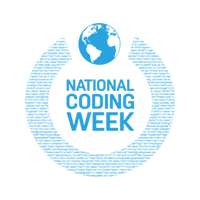 I found myself pondering how much a gentle introduction to coding will continue to shape our generation and our future generations. Our lives are already surrounded by code and coders. You may be reading this through a smartphone, through an app or on our website? It's all down to the work of code (even this blog is made up of code).
It is code and the work of code and computer science that makes our experience and interaction with these devices possible. You may enjoy playing games on your tablet computer, you may have bought tickets for the movies online or used a ticket machine to buy your train home... it's all coding. The more I thought about my experience with the Hour of Code the more I realised that the more opportunities we have to understand what makes these everyday activities possible, the better.
Coding is everywhere and coding is shaping what's possible in our social lives, in academia, in healthcare and in scientific research. It's a fundamental part of our everyday lives and a building block of our future. So I am glad I took an hour to dip my toes into the world of coding and had the opportunity to understand how and why it's an important part of our lives.
This week marks National Coding Week so if you, your children or your friends are interested in coding you can find out more about Coding Week and how to get involved by visiting: https://codingweek.org/
Other websites that may be useful include:
A chance to experience Hour of Code for yourself: https://hourofcode.com/uk
To visit GSC's Hour of Code workshop have a look at: https://www.glasgowsciencecentre.org/whats-on
Or try coding for free with Codecademy: https://www.codecademy.com/