Discover outside play at Glasgow's 'secret garden'
Read time 4 minutes
Posted on January 10th 2022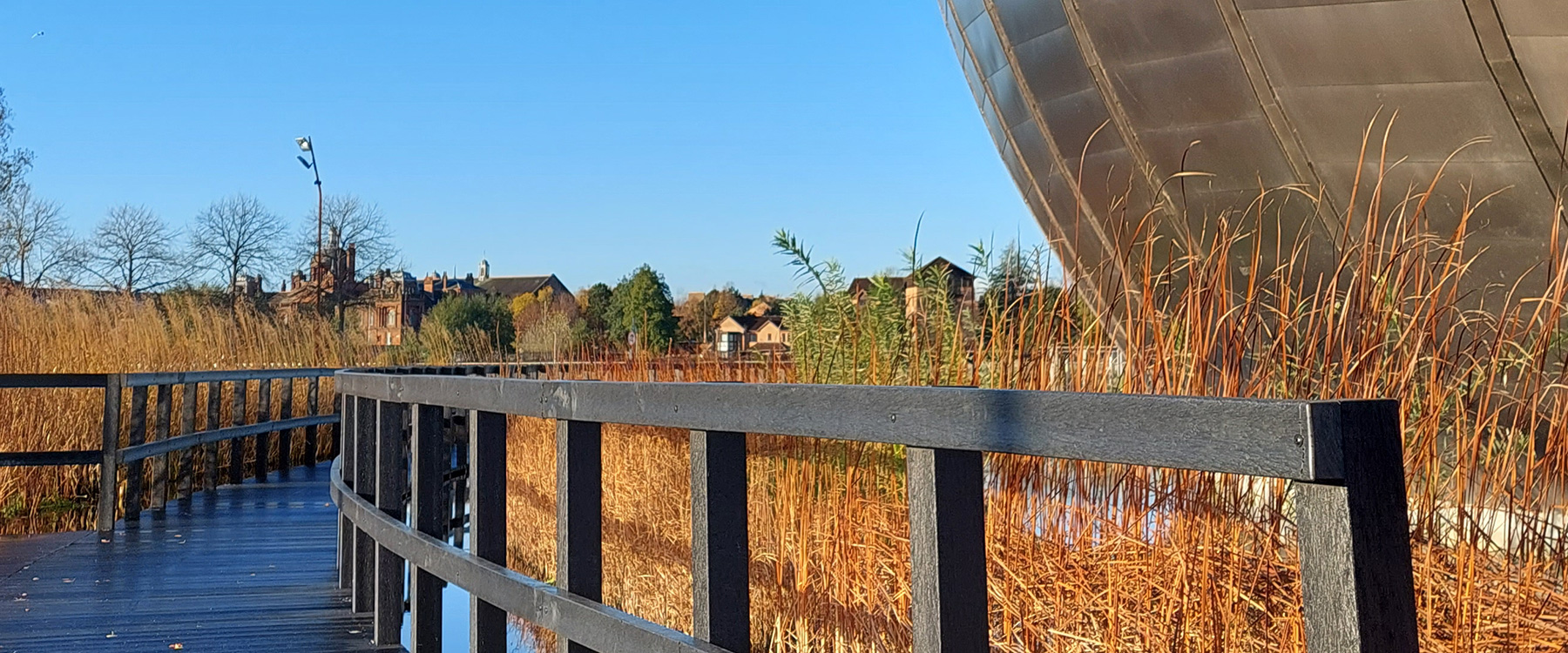 Outside play - especially in the winter - has positive health and wellbeing benefits for grown-ups and children alike. Discover how a secret garden in Glasgow is used by some adults in creative ways...
Playing in tune with nature
On the banks of the River Clyde, a lush urban garden has sprung up. Every evening, around 5 o'clock, a tune played by a lone percussionist reverberates across the garden's wetlands and grasslands. The anonymous musician is just one of a series of regular visitors who have been making the most of 'Outer Space' - a carefully designed riverside retreat which quietly opened during the pandemic.
The space, which curls around Glasgow Science Centre, reflects its riverside setting. It also tells a tale of the city's rich scientific heritage thanks to a trail of ten interactive science experiences. Walkers stroll among the wetland and grassland areas with views towards the nearby river estuary and woodland. The moat around Glasgow Science Centre's titanium- clad buildings has been transformed into biodiverse wetlands and now teems with different species of aquatic plant. There is plenty to spot even for the winter wanderer. With grasses, rushes, and an ever-increasing range of wildlife on display, it's a great place for impromptu bird-watching.
Glasgow's 'secret garden' of science
'Outer Space' features freely accessible scientific exhibits which centre on sound, movement, and light. You can step inside a kaleidoscope or conjure up your own whirlpool. The exhibits take inspiration from the water and weather of the riverside setting. The twilight musician plays his nightly tune on one of the percussion exhibits which encourage passers-by to produce sounds on various materials from granite to rock.
The area also features some very special painted bollards which were designed by different groups after a city-wide competition (Make Your Mark). Each brightly coloured bollard is an artwork in its own right. Visitors can view designs by Leverndale Hospital, Anderston and Lorne Street Primary Schools, The Hidden Gardens, arts charity WAVEparticle, and the Glasgow Disability Alliance.
Word of mouth has attracted an array of visitors to the gardens. In the still of the morning, the peace brings those practising tai chi. Later in the day, you might spot a dog training class or skateboarders drawn by the smooth concrete pathways of the city retreat. The space is also designed to encourage visitors to be as eco-friendly as possible. It features a new cycle shelter and is positioned on the cycleway which connects Pacific Drive with the Bell's Bridge and National Cycle paths. A recently installed top-up tap means that visitors can fill up their water bottles with fresh water as they visit or play.
Space to play for Skaters
Skateboarder Steven Hill is one of the regulars at 'Outer Space'. He explains why he enjoys using the area so much: "Skateboarders are used to being asked to move on, there are very few public places where we are welcome. Spaces like the one at Glasgow Science Centre help change the perception of skaters and shows our active and creative use of architecture. We encourage our community to keep these spots clean and safe for everyone who uses them."
In days long past, the Clyde teemed with the thrum of shipbuilders. Initiatives like Outer Space aim to breathe new life into the Clydeside, creating a space which is open to all. Families, individuals and groups are encouraged to enjoy this special riverside garden- walking, playing and learning.
With a new generation of visitors to the Clydeside, the green shoots of other enterprises have appeared too. One of these is 'Cabin at the Quay'- a coffee cabin which serves locally roasted coffee, plus cakes and sandwiches. It's a firm favourite with walkers and cyclists.
Kirsty Abbott from 'Cabin at the Quay' says: "We get a lot of dog walkers and cyclists coming for coffee, cake and rolls as well as families with kids as it's a great wee spot for kids to run around and explore."
With winter upon us and the uncertain shadow of lockdown, an urban escape into nature is something to be welcomed- another pocket of green in the Dear Green Place.
Outer Space is open every day, all year round. It is free to enter, and no ticket is required to enjoy the exhibits.
---
Further Information
Written by Glasgow Science Centre's Claire Gemson.
This blog post is adapted from an article that first appeared in Glasgow Times in January 2022.