Inspiring enterprising young people to create a more 'circular' world
Read time 2 minutes
Posted on November 6th 2018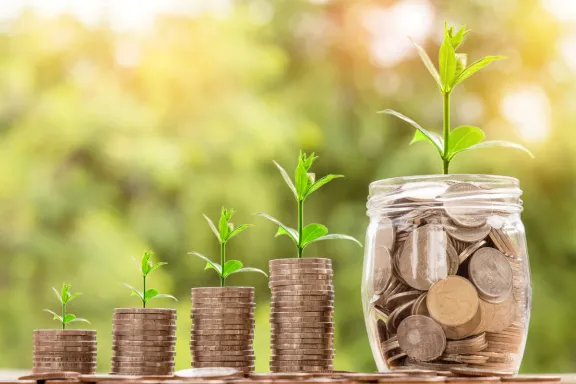 Young Enterprise Scotland are proud to be leading the way in educating Scotland's young people in the Circular Economy. In partnership with Circular Glasgow and the Scottish Power Foundation, YE Scotland has developed a programme designed to educate young people on the Circular Economy and inspire them to design their own solutions for a zero waste world.
Primary schools from across the city of Glasgow have been working on the challenge since August 2018. Young people from each school will create and market their own product or service and present it to a panel of industry experts at the end of the process, providing them with a real-life context for their learning. The 12-minute video below tells you more about the Circular Economy Challenge.
Writing for the GSC blog in the run up to Curiosity Live, Marie Leck, YE Scotland Project Executive – Circular Economy Challenge said...
"Creating the Circular Economy Challenge over the past few months has been so exciting. It's been really stimulating finding out all about the incredible Circular Economy work being done in Glasgow and further afield. We've received wonderful support from our various partners. Circular Glasgow has been instrumental in linking us with innovative businesses to inspire and mentor the youngsters. We're very grateful to those businesses who see such value in working with young people.
"Now that we've started delivering the programme to schools, we've seen so many youngsters inspired by the enterprising stories we've shared with them. I look forward to seeing what our next generation of innovative young people come up with to create a more 'circular' world.
"The Primary 7 class from Oakgrove Primary have been so engaged and excited by the challenge that we were delighted to share with them the opportunity to become experts for the day at Curiosity Live."
Our thanks to Marie Leck, YE Scotland Project Executive – Circular Economy Challenge for her blog post contribution.
You can follow @YE_Scotland on Twitter and meet Young Enterprise Scotland and pupils from Oakgrove Primary sharing their plans for a zero waste world at Curiosity Live on Friday 9th November 2018.
Curiosity Live
Curiosity Live returns to Glasgow Science Centre from the 9th to the 11th of November 2018. Follow the link to find out more about what's in store at this celebration of talent, research, innovation and creativity.