Feeling at Home with the Science of Care
Read time 5 minutes
Posted on May 15th 2023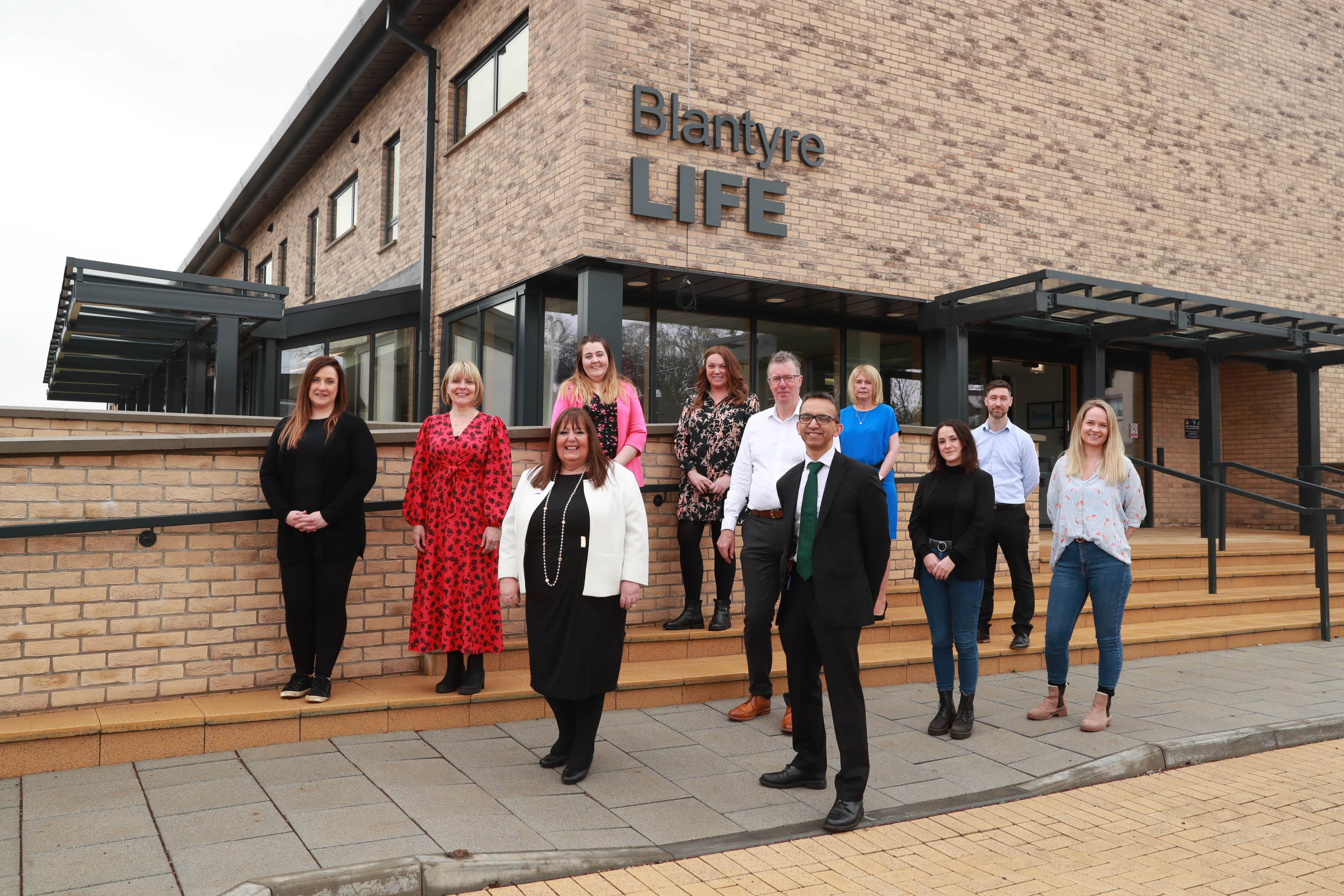 Technology is at the heart of an innovative house and care campus in Blantyre. Ahead of the official launch, Claire Gemson finds out more and explains how Glasgow Science Centre has played a part in its development.
It is a grey and drizzly Friday afternoon, but nothing can dampen the enthusiasm of Professor Soumen Sengupta, Director of Health and Social Care for South Lanarkshire, as he shows visitors around a ground-breaking housing and care campus in Blantyre. The campus offers a brand-new way to care for elderly and vulnerable residents in tech-enabled homes, allowing them to live independent lives for longer. At its heart is South Lanarkshire Council's new care facility, Blantyre LIFE. Blantyre LIFE offers 20 beds for patients over 50 who are well enough to leave hospital and assessed as needing short-term care to return home. A key innovation is its interactive Technology Enabled Care (TEC) zone designed in partnership with Glasgow Science Centre. The TEC Zone demonstrates how technology can play a crucial role in supporting people to live safely, independently, and happily at home.
Professor Sengupta explains how vital he believes such developments are:
"The future of care is in people's homes - in empowering us all to live as independently as possible for as long as possible within local communities. Our interest here is in developing and promoting a 'home first' approach with new technologies enabling us to live longer and healthier lives."
Jill O'Boyle, Technology Enabled Care Service Manager adds: "Smart tech can you help you stay in control. It can provide reassurance or an early alert to caregivers through simple everyday consumer technology, such as voice-activated lights and gadgets, to more advanced and specialised equipment such as fall detection technology or remote monitoring of long-term health conditions."
the future of care
Professor Sengupta and his team were acutely aware that such new technological advancements needed to be communicated effectively. Professor Sengupta sums it up: "Many members of our communities – and our staff – have legitimate questions about the role of tech in our lives. The challenge then is how to encourage hopes and address fears?  We saw the TEC Zone as providing an opportunity to engage people in exciting futures."
This is where Glasgow Science Centre came in as a partner, sharing extensive experience in communicating technological concepts to visitors in an accessible and informative way. The themes and content of the TEC zone were developed with service users, carers, and staff – with the science centre team then bringing them to life through interactive exhibits. Jenny Galbraith from Glasgow Science Centre explains further:
"The Zone showcases how technology can be used to make day-to-day living easier and safer, how it can protect an older person's independence and reduce isolation.  Visitors can practise screening callers using smart doorbell technology. They can navigate their way through a tech-enabled home, seeing exactly how tech can help. There is an area that shows how technology such as Purple Alert, a free mobile app, can alert the community if a person with dementia goes missing."
tech support
One of the first service users of Blantyre LIFE is Marion Gill. Marion was recently discharged from hospital after a serious operation.
 "I was stressed in hospital," says Marion, who was facing a difficult situation. While well enough to leave hospital, staff recognised that Marion would benefit from intensive rehabilitation to confidently return home. Blantyre LIFE provided the perfect solution.
"It has taken a huge burden (off us). I can't say what it means to me to feel independent. This has given me the whole package of everything I need to move forward. To come here with people who can assess you, find out what you need, it is amazing."
Evelyn Devlin, Service Manager, is listening intently to Marion's story. It's clear that listening to the individual is key. Evelyn explains:
"The posh word for it is 'personhood' but what that means is a patient's sense of their own identity and who they are. You are welcome here. You have rights. You are back to being you."
During her short stay, Marion will be assessed for the most helpful tech to support her return home. She is already using a tablet and alarm system which allows staff at Blantyre LIFE to gather important information to help her.
Sophisticated technology may be able to provide safety, and security and enrich an individual's life but what it means is more simply put by Marion:
"I can just be me," she says with a smile.
---
Further Information
This blog post by Claire Gemson is adapted from an article by Glasgow Science Centre that first appeared in Glasgow Times in May 2023.
Image courtesy of South Lanarkshire Council.