Growing Together in Greenock
Read time 5 minutes
Posted on May 1st 2023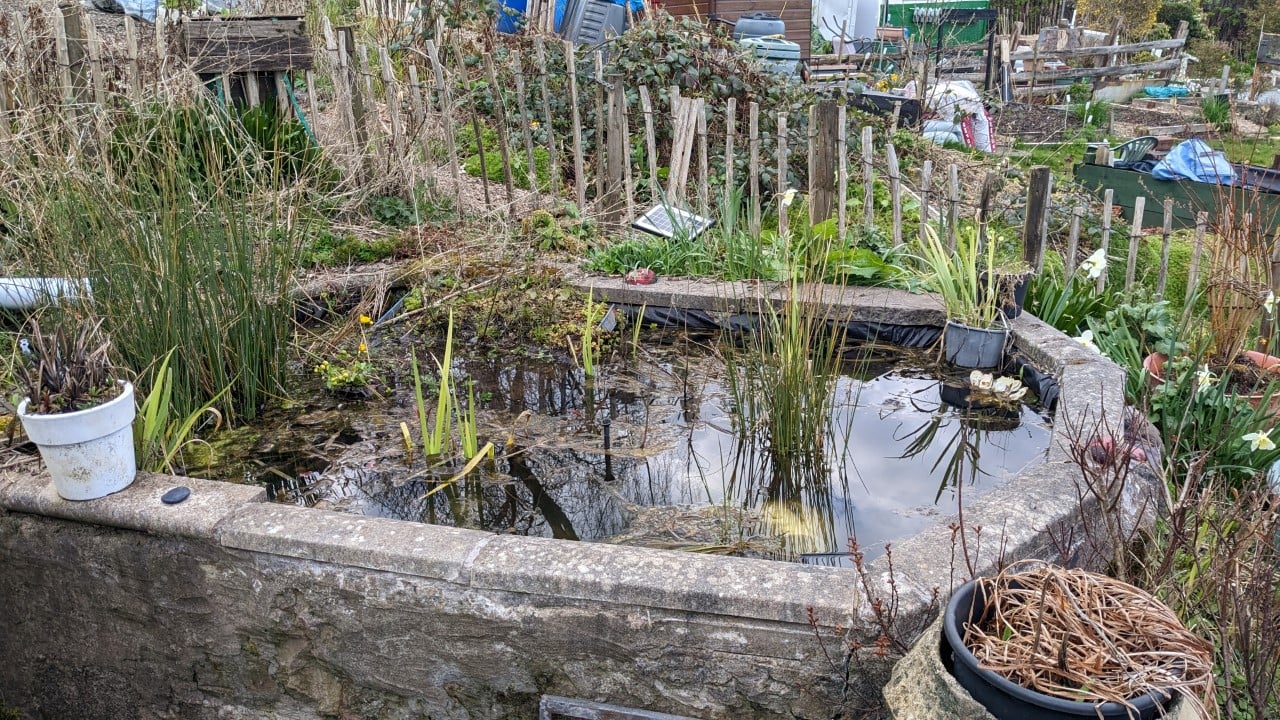 On a sunny day in Greenock (they do happen) I went to visit my friend's much-talked-about allotment. Not being particularly green-fingered myself and never having visited allotments, I wasn't sure what to expect when we passed through the locked gates. What I discovered was a beautiful oasis of organised chaos existing within the shadows of the surrounding buildings and trappings of urban life. Despite how out of place this patch of Eden may look to the casual observer, I was glad to be informed that there had been an allotment on-site since 1912.
The allotments are situated on the site of the old railway line leading to the Princess Pier Railway Station, now in disuse. Walking down the long line of regimented rectangular plots it's easy to imagine old railway carriages chugging along carrying their goods and wares to the coast.
With my visit being in early spring I was unfortunately not seeing the allotments in their full, colourful glory. However, the plots were still busy with friendly, smiling gardeners, buzzing bumblebees and a few eager butterflies. It was all so wonderfully wholesome and serene.
Community Spirit
A 2022 survey conducted by the Association for Public Service Excellence found that almost 87% of local councils surveyed have experienced a notable increase in demand for allotment plots. Some are even comparing this upsurge to the advocacy of 'victory gardens'. In the UK, the Dig for Victory campaign was launched by the British Ministry of Agriculture in 1939. The idea was for the public to cultivate green spaces to grow vegetables to combat rationing and supplement dwindling food stocks during WW2.
Not only did victory gardens take pressure off wartime food supplies they also helped boost morale in difficult times. Although it would be unwise to compare COVID-19 to wartime, a survey by the UK's Office of National Statistics showed 42% of Britons took up gardening to combat the stresses of lockdown. Many of the allotment gardeners I spoke to reminisced about being able to visit their plot during lockdown. Being in the open air and seeing other people, however briefly, helped combat the isolation. Many of the gardeners live in flats with no garden.
My friend takes us over to what she lovingly calls 'The Darkside', the shadier side of the allotment where her plot resides. Some may baulk at attempts to grow things on the dark side, but my friend likes watching neighbouring plots to estimate when it's a good time to plant. Community is a massive part of allotment life. Everybody helps everybody. My friend's husband, and fellow gardener, states that when they joined the society, they were inundated with offers of tools and cuttings to get them started.
With modern-day worries of communities becoming insular, it is heart-warming to see people sharing interests and looking out for one another. If an allotment gardener is sick or shielding, fellow gardeners will take care of their plot and harvest their produce for them. The allotments even cater to the wider community; donating fruit and vegetables to Jericho House in Greenock to aid residents' recovery. A local college and Scouts group also have plots.
Good for the Soul
Not only does nurturing a garden improve mental well-being, confidence and self-reliance, it also improves physical health. A study in the Netherlands showed that every 10% increase in exposure to green space improved an individual's health, equivalent to being five years younger. Studies in Canada and Japan had similar findings.
The Greenock allotments grow a variety of produce such as potatoes, strawberries, courgettes and plums. I even spotted a flourishing lemon tree in a greenhouse! With all these homegrown essentials, the allotments are doing their bit to fight climate change. Eating local in-season produce vastly cuts down on carbon emissions and the gardeners also collect rainwater to quench their crops. On my wander I spotted lots of upcycling efforts; green bottles lining a path, yoghurt pots protecting plants and even a toilet flowerpot! The allotments also sustain local wildlife with a resident fox, named Basil, and a well-fed coal tit. But there have been some unwelcome critters too, like the invasion of rabbits!
Listening to the gardeners I get a real sense of community and fun, whether it's sharing cuttings or laughing at peculiarly shaped vegetables. It's definitely a hobby that is here to stay.
Increase your exposure to green spaces at the outer space at Glasgow Science Centre! https://www.glasgowsciencecentre.org/discover/our-experiences/outer-space
---
Further Information
This blog post by Nicole Alexander is adapted from an article by Glasgow Science Centre that first appeared in Glasgow Times in April 2023.
Increase your exposure to green spaces!
Discover the Outer Space at Glasgow Science Centre