Under 7s
Glasgow Science Centre for Under-7s
A question we often get asked is "what is there for under-7s to do on a visit Glasgow Science Centre?" The answer is, there's lots to do at Glasgow Science Centre for the wee ones!  Here are some suggestions for interactive exhibits across the science centre that are especially suitable for under 7s exploring their curiosity.
---
Floor 1
The Space Zone on Floor 1 is a great area for young space cadets, and at the Gravity Well they can explore how our mini-planets orbit the Sun.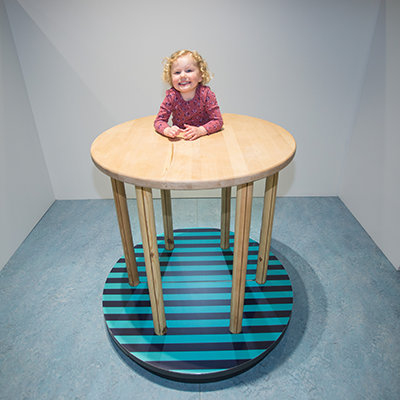 Our Question of Perception exhibition is full of mind-bending illusions including: an Ames Room where smaller visitors might suddenly appear to dwarf their adults; a Floating Head Illusion which makes for a great photo opportunity; and our exhibits such as the Zoetrope, Praxinoscope, and Spinning Wine Glass will have them in awe of animation illusions.
The Explore! exhibit features many great experiences for younger visitors. Make Coloured Shadows or look at yourself in our amazing Distorting Mirrors. Creating Spinning Sand Patterns is a mesmerising experience and our fun new Tube Tunnels exhibit is guaranteed keep you entertained for ages!
And no visit for families with young children is complete without an adventure on The Big Explorer!
---
Floor 2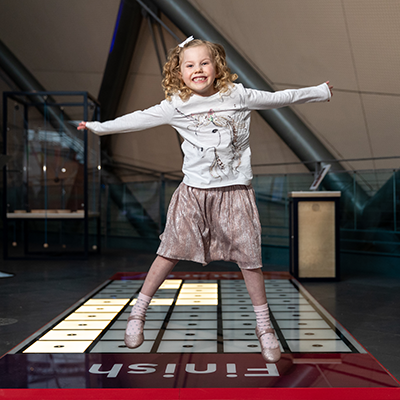 Our brand new exhibition, Idea No.59 celebrates the innovative spirit in all of us, and has many interactive exhibits that young visitors can enjoy. Take on a robot at a game of Noughts and Crosses; work as a team at Team Snake; and test your memory in our exciting Memory Path.
Our other large exhibition on Floor 2 is Powering the Future, which explores how energy underpins our modern lives, and features many family favourites. Race cars at our Giant Scalextric track. Use your muscles to power gadgets at The Tower of Power. Or how about launching a Compressed Air or Hydrogen Rocket?
---
Floor 3
Covering the whole of Floor 3 is Bodyworks, and exhibition looking at the science behind health and wellbeing. The leg bone's connected to the…? Do you know? Find out in our Skeleton Puzzle. There are other great body puzzles in Bodyworks, including a Torso Puzzle.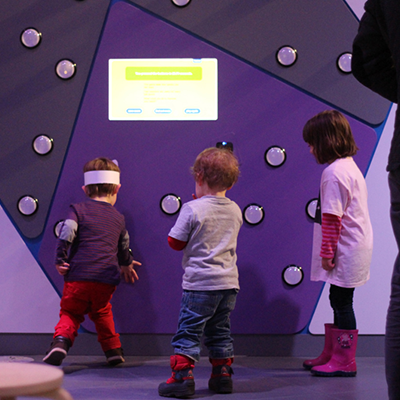 Test yourself to find out How high can you jump? And right next door to this exhibit test how softly you can jump, in Landing Gently!
Monkey bars are a lot of fun, and you can test your stamina in our Hang Time exhibit. There's also a lot of excitement to be had when you compete with friends and family at our fast-paced Reaction Timer. And after all of that, check your heart-rate at How fast is your heart beating?