What are Earth Observation Satellites? 
There are currently thousands of satellites orbiting our earth. Their uses range from communication, to security, to scientific research. Earth Observation Satellites (EOS) help us to collect information about our Earth from space. By using an EOS to observe events on earth we can spot patterns and phenomena that would be difficult to detect from the ground. There are currently over 150 Earth Observation Satellites in orbit.  
How can satellites tell us more about our Earth? 
These satellites, can monitor things like weather, cloud systems, ocean salinity and currents, oil spills and even fires. The data they collect helps us to monitor and protect our environment, manage our resources and respond to global humanitarian disasters. For example, NASA's Suomi NPP mission, which launched in October 2011, uses the data it collects to monitor natural disasters such as wildfires, droughts and hurricanes.  
EOS also allow us to closely monitor various environmental systems which are difficult for us to observe directly. This can help us to manage our resources and protect the natural world. Biologists tracking penguin populations in the Antarctic have been able to do this more efficiently by using satellite images to look for penguin poo on the ice. These images help them to identify different colonies and their location.  
The Big Picture  
As we continue to monitor climate change, Earth Observation Satellites become more and more essential in helping us see the big picture.  
Below are some images gathered from different Earth Observation Satellites that help us to identify trends related to climate change. Take a look at the differences between these images of the same sites over time.  
Deforestation in Cameroon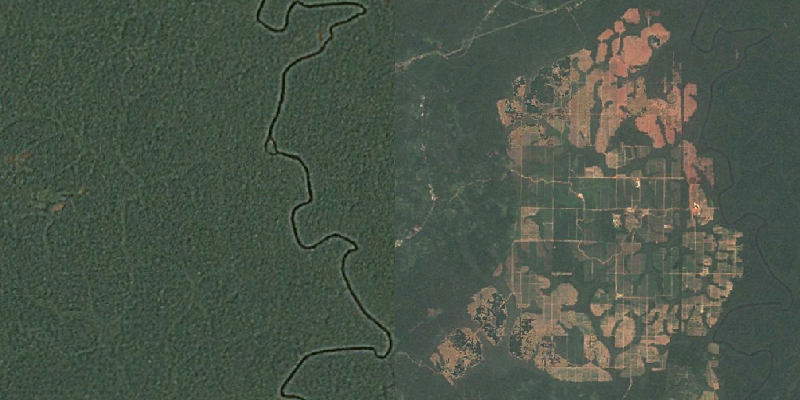 The first image shows Cameroon in 2002; the second image is in 2015.
Ice Melt at Mt. Kilimanjaro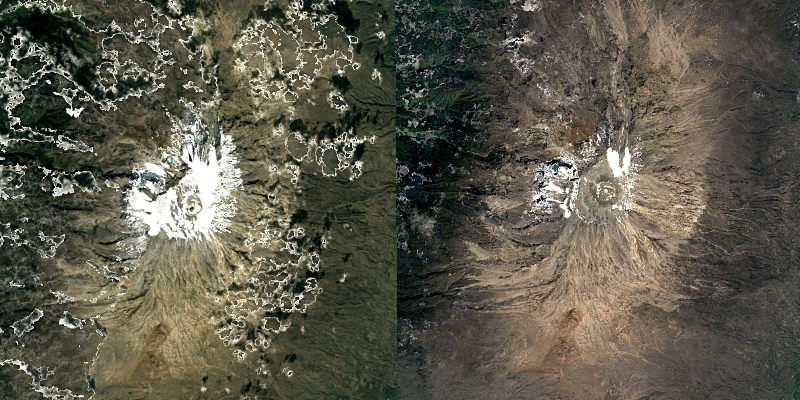 The first image shows Mt. Kilimanjaro in 1985; the second image is in 2015.
 
These images show drastic changes that we may only see the scale of from space.
Images like these help us to track the effects of climate change and deforestation more accurately than we could on the ground. 
---
Glasgow Science Centre's new permanent exhibition, Idea No59 celebrates the innovative spirit in us all. On your next visit, come and explore the exciting process of taking ideas and bringing them to life.