Astronomy night classes in our full-dome digital Planetarium. We'll guide you expertly through the night sky, learning the major constellations as we go, before journeying into space and exploring the vast cosmos.
This night class is for 16+ only, and will run on consecutive Monday nights 7-9pm for four weeks (8, 15, 22 & 29 January 2024). Each 2-hour class will be delivered by Astronomer Steve Owens together with our planetarium team.
The topics the course will cover include:
The Night Sky: stargazing for beginners and what to look for over the course of the year
The Solar System: a tour of the fascinating planets and moons of our corner of the cosmos
The Life and Death of Stars: how are stars born, and how do they end?
Life in the Universe: the hunt for extra-terrestrial life
Galaxies and Nebulae: searching for beautiful star-clusters, violent nebulae, and distant galaxies
The Big Bang: a journey back in time to the beginning of everything.
There's no formal assessment or homework; simply come along to marvel at the beauty of our universe, and relax under the twinkling stars of our Planetarium.
Gifting this experience?
If you have bought this as a gift and would like a digital gift confirmation, please email [email protected]
About the Planetarium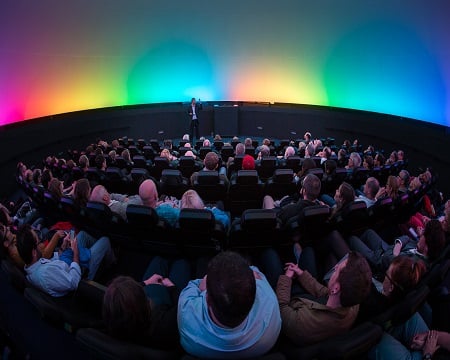 The Planetarium at Glasgow Science Centre has been upgraded to a spectacular, state-of-the-art, fulldome digital projection system (what a mouthful!). Our shows are live presenter-led or film based to take you on a journey through the solar system, into the Milky Way Galaxy and beyond, offering a truly out-of-this-world experience. Our spectacular full dome films display 360 degrees across the 15-metre hemispherical dome of the planetarium. It really is spellbinding stuff.