Looking for shows in Glasgow that are out of this world? Then kick-start your Saturday night at the Planetarium! Explore the cosmos after hours, from 7-8pm on Saturdays (check below for dates).

These amazing Planetarium Lates are live presenter-led shows, where our team of expert astronomers will fly you on a tour of the cosmos, show you the latest amazing images, and bring you cutting-edge astronomy news. Whether you're looking for a way to kick-start your evening, or as a special treat for the kids, our planetarium will amaze you.

Every effort to admit latecomers will be made but late admission cannot always be guaranteed.
About the Planetarium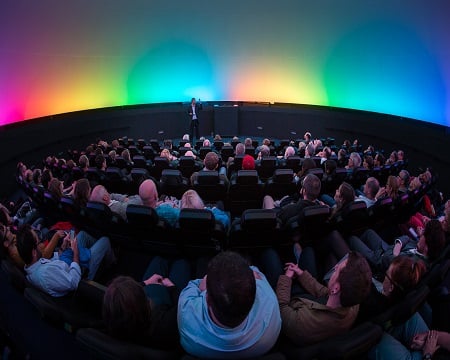 The Planetarium at Glasgow Science Centre has been upgraded to a spectacular, state-of-the-art, fulldome digital projection system (what a mouthful!). Our shows are live presenter-led or film based to take you on a journey through the solar system, into the Milky Way Galaxy and beyond, offering a truly out-of-this-world experience. Our spectacular full dome films display 360 degrees across the 15-metre hemispherical dome of the planetarium. It really is spellbinding stuff.