We are making Glasgow Science Centre a hub for innovation in Scotland
Read time 5 minutes
Posted on October 18th 2019

This month, Glasgow Science Centre presented a prestigious new award recognising major achievements in science to a very worthy winner.
Professor Sir James Hough is the first recipient of the Inspiring Innovation Award because of his leading role in the University of Glasgow's work with the Laser Interferometer Gravitational-Wave Observatory. Our city, and our country, should be proud to have him.
Gravitational waves are disturbances in the curvature of space-time. In other words, they are fast-moving ripples in space created when two bodies, such as planets or stars, orbit each other. These ripples spread out in the same way as when a pebble drops into a pond.
These gravitational waves were predicted to exist by Albert Einstein in 1916 as part of his theory of General Relativity. However, it would take another century for them to be detected by the Advanced Laser Interferometer Gravitational Wave Observatory (LIGO), within which Professor Hough played an integral part.
This discovery gave astronomers an entirely new tool for studying the universe, but the detection did not appear overnight. Rather, Jim and the team took on an arduous task that began in the 1970s and faced the prospect of failure on many occasions before its eventual completion.
Professor Hough, who can now add the Inspiring Innovation Award to his knighthood and Gold Medal of the Royal Astronomical Society, said, "In the bad times I was tempted to walk away, but we had graduate students still working and it would have been letting them down to walk out and leave them. I had a belief that we would get there eventually if we would just held in. That's advice I would give to all young scientists; if you believe in something and you're interested in it, do not be talked out of doing it."
Grumblings from naysayers will always be part of the innovation process. Today's doubters are most vociferous on Twitter and other forms of media and thankfully, our award winner did not grow up in a world with online trolls. Nevertheless, many astronomers and colleagues in academia questioned his bold vision.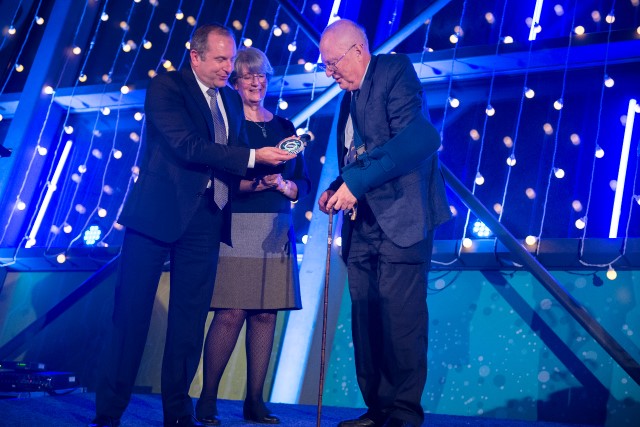 The Inspiring Innovation Award was given to Professor Sir James Hough just as much for his demonstration of resilience over the decades as it was for the discovery itself. To Glasgow Science Centre, Jim embodies all the necessary characteristics an innovator must possess, such as risk-taking, problem solving, creativity, communication, critical thinking and collaboration.
Members of the public will soon have the opportunity to develop these skills when our exciting innovation exhibition, Idea No59, opens at Glasgow Science Centre in March next year.
Idea No59 is aiming to inspiring everyone, from children to adults, to consider the future and their place in it as our society is transformed by technology and innovation. With a focus on 21st century skills, visitors will come away with a greater confidence in being able to grasp the opportunities of the future and navigate its challenges.
"Do it, it may not work at first, it might take you ten years, but if you really believe in it and you think it's worth doing, then fight for it and don't let people put you off."
- Professor Sir James Hough
For our nation to continue to innovate, to adapt and to invent we must develop a new wave of problem-solvers and creative thinkers and a visit to Idea No59 will empower people to learn more about how our world is changing.
We are delighted to have Professor Sir James Hough on board to help inspire the next generation of innovators. As well as his scientific achievements, Jim has always demonstrated a commitment to engaging young people in science. His sage advice to aspiring innovators is, "Do it, it may not work at first, it might take you ten years, but if you really believe in it and you think it's worth doing, then fight for it and don't let people put you off."
These words imbue everything the Inspiring Innovator Award and Glasgow Science Centre represents.
By Stephen Breslin, CEO, Glasgow Science Centre
This article first appeared in The Herald.