How GSC supports early learning practitioners to be confident in bringing science to young people
Read time 4 minutes
Posted on February 7th 2019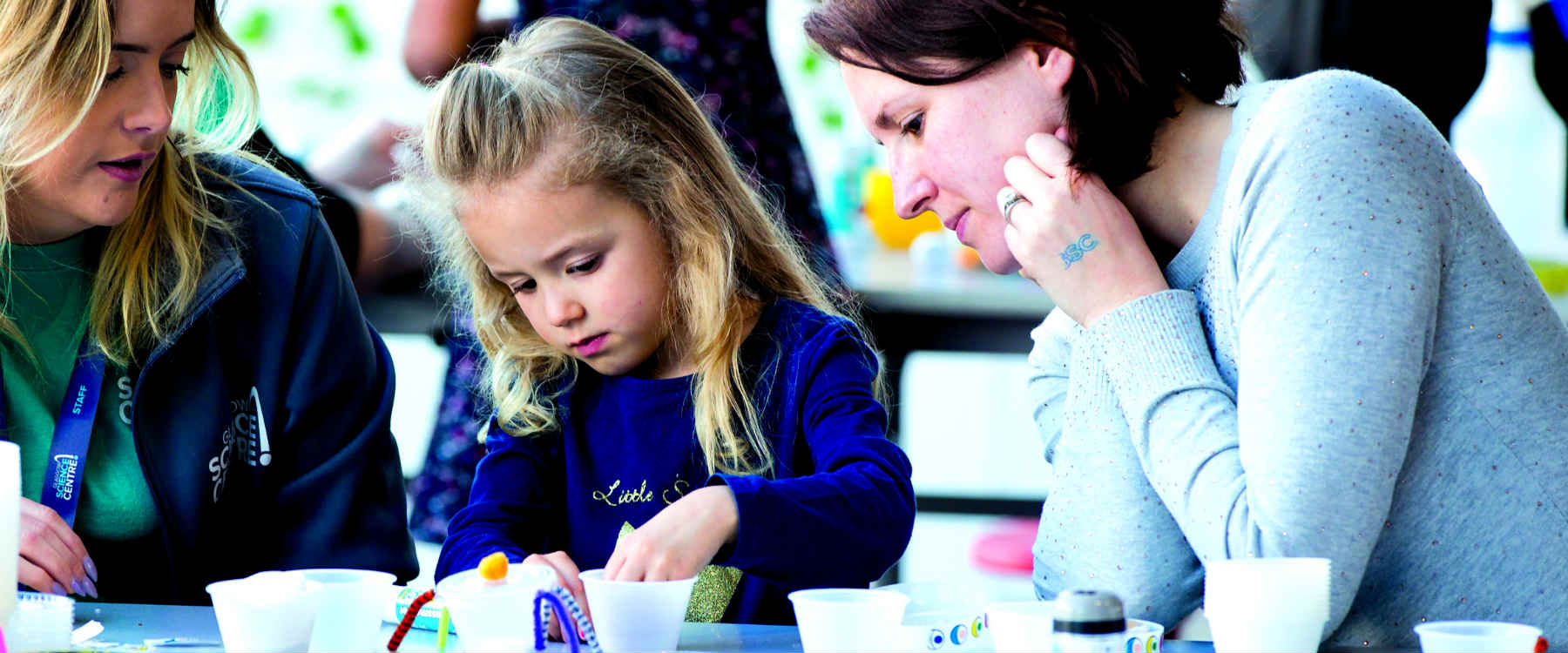 GSC has been piloting a new Little Explorers On Tour programme with nursery staff.
Project background
GSC has been delivering its series of Little Explorers weekends with activities aimed at 3-5 year-olds for many years and the pilot for Little Explorers On Tour was developed in response to the Scottish Government's STEM Strategy.
Early Learning and Childcare (ELC) features heavily in the Strategy and GSC identified that it can support the Scottish Government to "…ensure early learning and childcare (ELC) practitioners have the appropriate skills, knowledge and confidence to support young children in relation to STEM."
Delivery
The pilot for Little Explorers On Tour tested the delivery models for a potential outreach programme for ELC practitioners and pre-school children. Using market research and our experience of outreach delivery, we developed and delivered a combined CLPL and activity experience for nurseries in Greater Glasgow.
We trialled different activities and delivery models and gathered comprehensive feedback to determine the best way to proceed with a large scale funded project in future.
Outcomes
The pilot proved extremely useful in understanding early years education in a range of settings. We were able to test delivery mechanisms and logistics and have additional discussion with practitioners regarding STEM.
The GSC outreach team delivered pilot activity in four nurseries (2x Private and 2x LEA). This allowed GSC to test the model in different spaces and with different audience sizes.
Nursery Staff feedback
Staff were really excited to be hosting GSC. GSC's market research showed that staff were not particularly confident in STEM and were very keen for support.
The staff believed that the GSC session had improved their confidence and gave them ideas for different ways to think about STEM and deliver activities.
There was mixed reaction when asked whether they would have been happy to deliver the activity themselves. Some were very keen but others were unsure, with one member of staff stating that while she would be happy (as the STEM champion) to do it she wasn't sure about her colleagues who were less confident.
They felt that the GSC session gave them ideas for activities and supported their understanding of STEM which would influence how they label activities they are already doing.
STEM Strategy Scotland annual report
Click to view the STEM Strategy Scotland annual report on the Scot Gov website.