Climate Sisters
Glasgow Climate Sisters is a group of 13 women who formed during a climate leadership course, run online by Zarina Ahmad through Gilded Lily in 2020. The women were encouraged to develop the ideas they had formed during this course, highlighting the aspects of climate change that they cared most about, into creative ways to have their voices heard. The project that emerged from this, which was initially called Local Women of the World, secured funding from Joseph Rowntree Charitable Trust - a pot of money for each of the women to take part.
"Each woman was given a pot of funding themselves, to develop their own ideas, if they needed resources, time off from work, or childcare, the money was there for them to do what they wanted with it, to enable them to be a part of this project – that was key." - Zarina Ahmad-Ali
As the project gathered momentum, additional funding was sourced from Care International and Action Aid UK through the Women's Environment Network (WEN), with additional support from the University of Glasgow - which provided student mentors to help each of the women to develop and create their ideas. The University of Edinburgh provided a filmmaker who documented the project across two films. This enabled the women to develop their varied ideas, with access to people who could help them make them a reality.
The women who took part spoke of the powerful connections they made with other women in the group, who are all from different backgrounds and live in Glasgow. They learned from each other's experiences, shared their voices, and helped each other to realise their projects' full potential. This support, along with the funding helped them to build confidence in their understanding of climate action, in connection with other social justice issues. 
---
The Climate Sisters produced a wide range of responses to the creative call-out, with an equally wide range of climate change concerns:
Meray Diner created a film called MISSION 2121, highlighting the importance of peatlands through the lens of aliens who come to harvest the plantlife once humanity has become extinct.
"I think what we need is a systemic change, people can't possibly do everything on their own. Be better informed, be more active about putting pressure on."
---
Khabat Malarasheed wrote a poem, which was applied to a mirror entitled 'Through My Flowers' which implores us all to respect mother nature.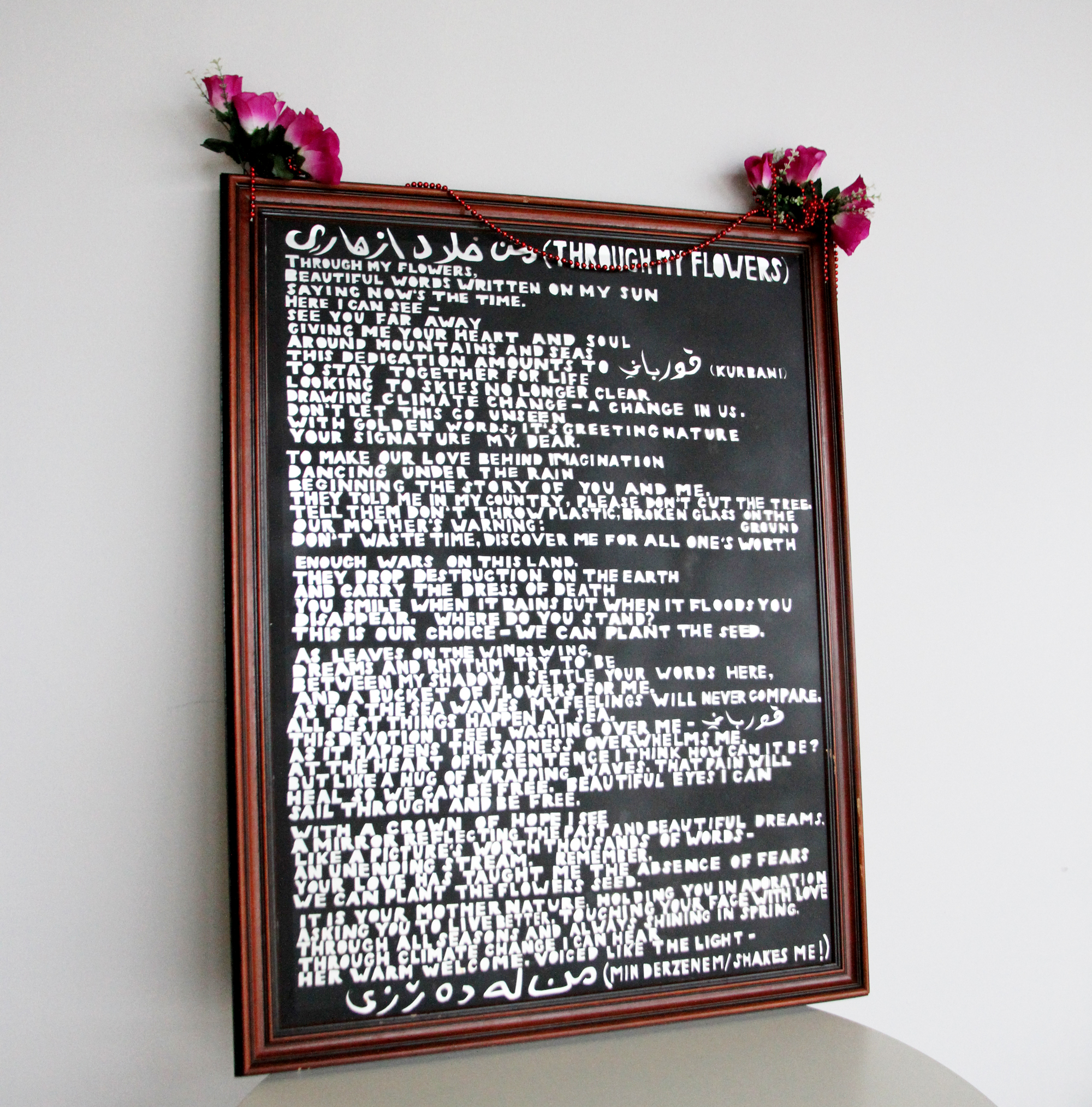 Through My Flowers
Beautiful words written on my sun
Saying now's the time 
Here I can see – 
See you far away 
Giving me your heart and soul 
Around mountains and seas 
This dedication amounts to Kurbani 
To stay together for life 
Looking to skies no longer clear 
Drawing climate change – a change in us 
Don't let this call unseen 
With golden words, it's greeting nature 
Your signature my dear 
To make our love behind imagination 
Dancing under the rain 
Beginning the story of you and me 
They told me in my country, please don't cut the tree 
Tell them to throw plastic, broken glass on the ground 
Don't waste time, discover me for all ones worth  
Enough wars on this land 
They drop destruction on the Earth 
And carry the dress of death 
You smile when it rains but when it floods you 
Disappear. Where do you stand? 
This is our choice– we can plant the seed. 
As leaves on the winds wing 
Dreams and rhythm try to be 
Between my shadow, I settle your words here. 
A bucket of flowers for me 
As for the sea waves, my feelings will never compare 
All the best things happen at sea 
This devotion I feel washing over me
As it happens the sadness overwhelms me 
But like a hug of wrapping waves, the pain will heal so we can be free.
Beautiful eyes I can sail through and be free. 
With a crown of hope I see 
A mirror reflecting the past and beautiful dreams 
Like picture's worth thousands of words - 
An unending stream. Remember. 
Your love has taught me the absence of fears 
We can plant the flower's seed. 
It is your mother nature holding you adoration 
Asking you to live better, touching your face with love 
Through all the seasons and always shining in Spring 
Through climate change I can hear 
Her warm welcome voiced like the light
Min Derzenem/Shakes me!
---
Sajida Rashid used her knowledge of sewing to create a denim dress from recycled garments with a set of fabric hangings that explore the impact of fashion on our planet.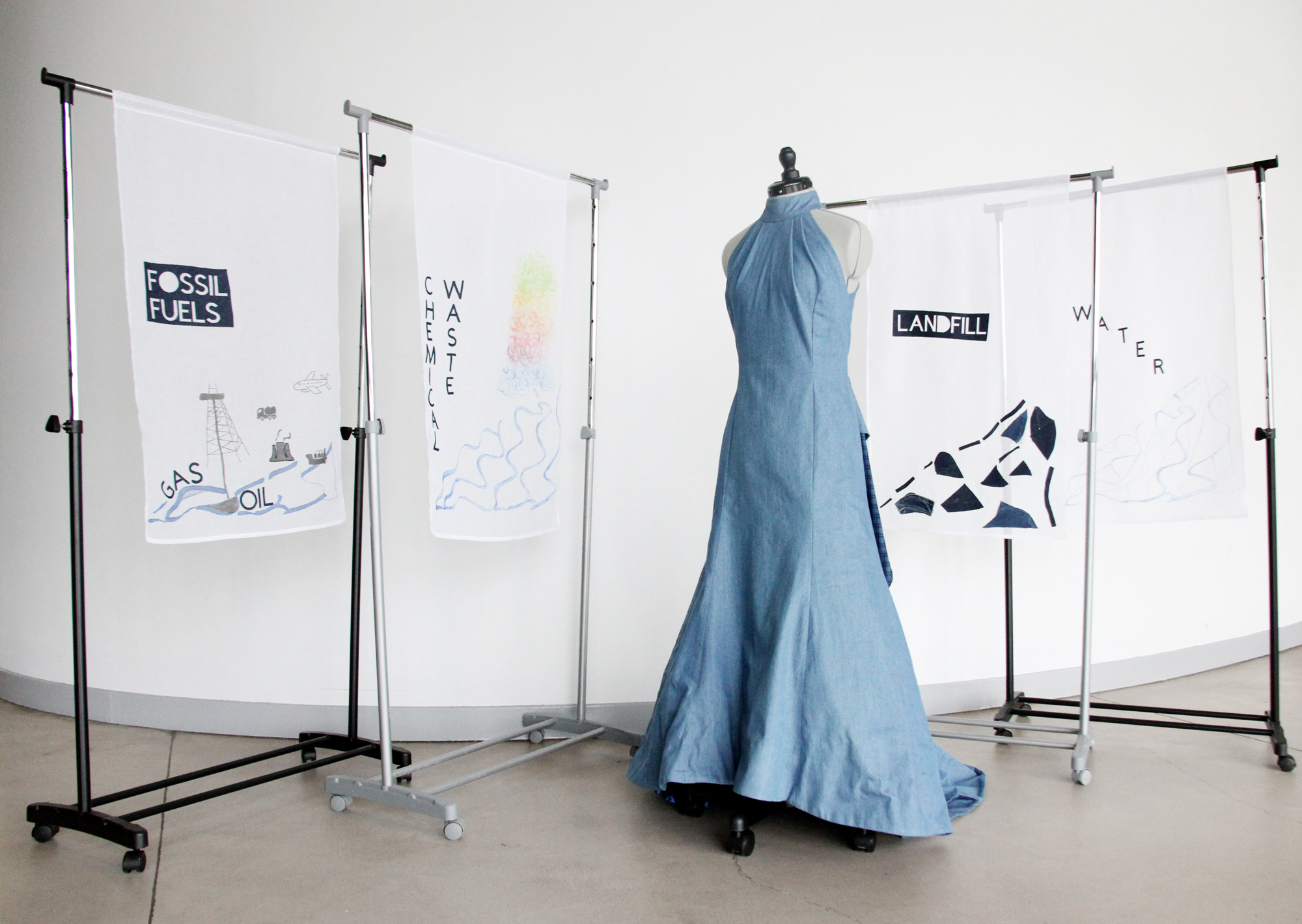 "The more  I looked into it, it just seemed more and more damaging. We're looking at a garment but we don't see how much it's affected the environment."
---
Farkhonda Kabiri photographed the E-waste on her daily walks and created a series of panels that explain the many ways we can repair, reuse, recycle, refurbish, and resell these items.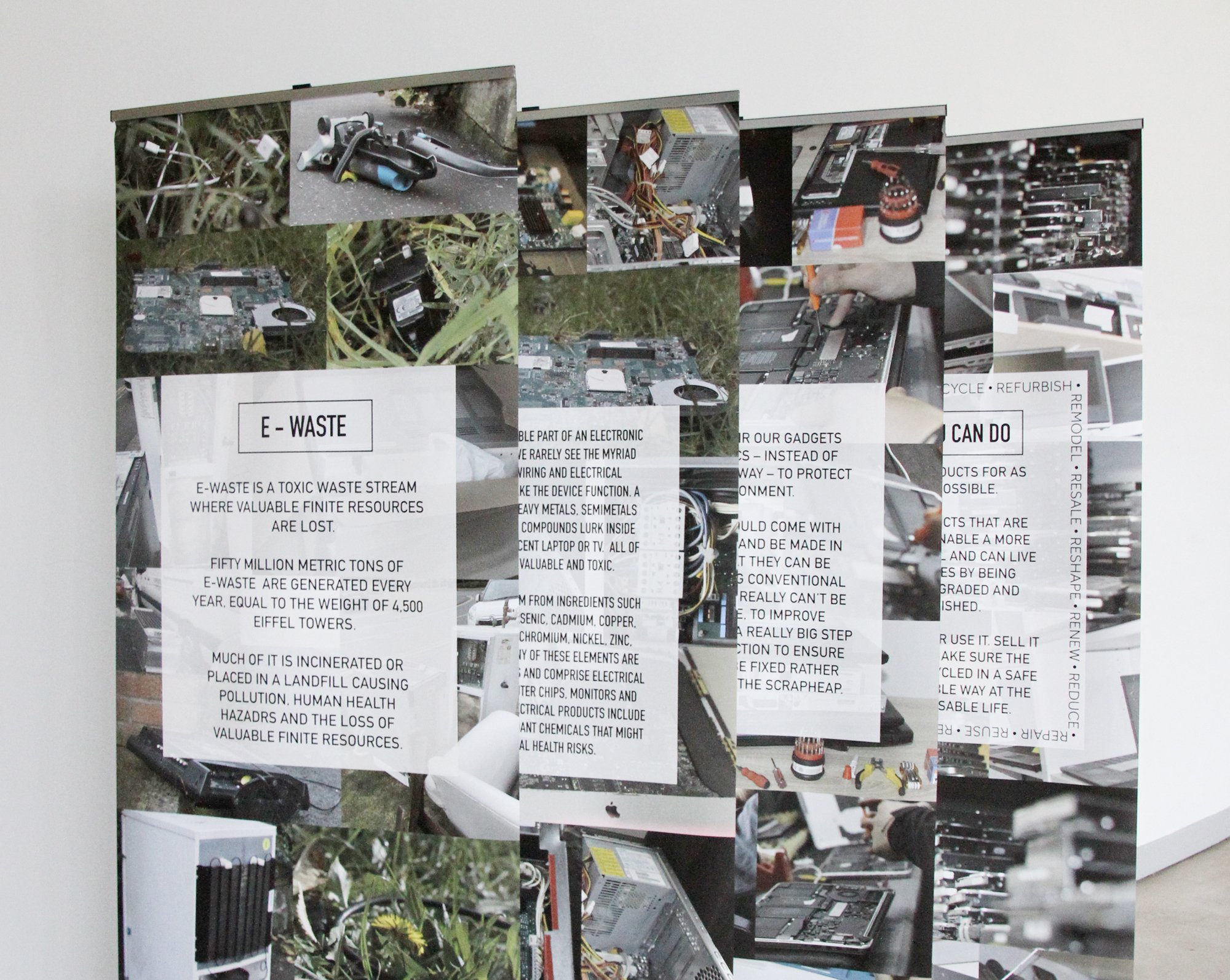 "My wee boy sees me as a role model. He sees me divide the rubbish, glass bottles, paper, plastic and waste. He sees me as the future and he will do the same as me."
---
Nahawand Al Farhan produced a sculpture that depicts mother earth as an ancient being, holding a new Earth above her head, with modern motifs representing Scotland mixed with ancient symbolism.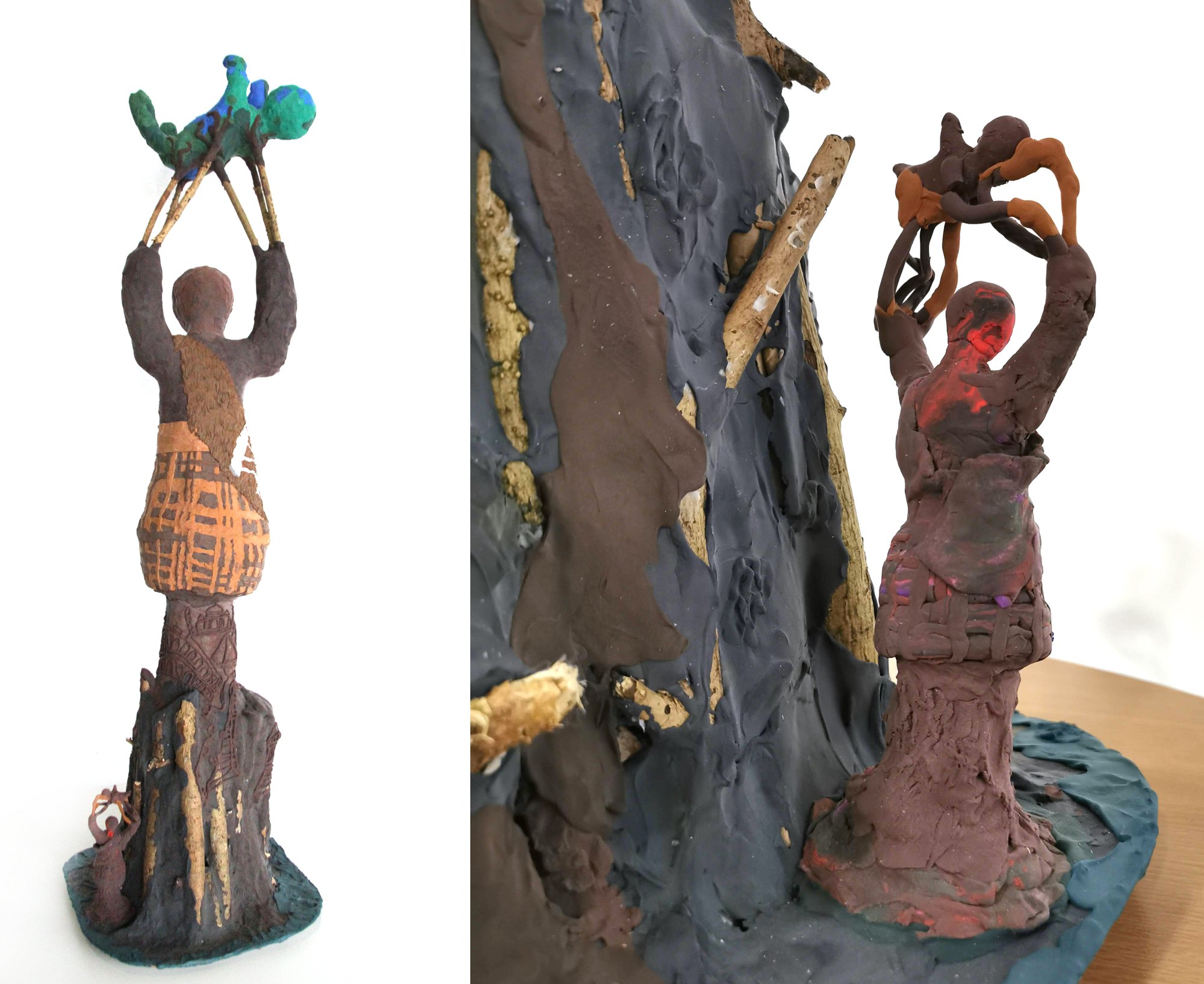 "I used the kind of nature in Scotland, with mountains and forests, the kilt has a special kind of tartan which represents how they cut the trees down to make roads, houses and cities."
---
Amanda Bogle wrote a song with an accompanying music video entitled 'This World Is On Fire' which talks about how we all need to work harder to stop our pollution from affecting others.
 
"The chorus is about everything that we throw away and how it always ends up somewhere else. It ends up in developing countries – that haven't contributed to climate change as much as we have."
---
Aniqah Ali recorded a series of podcast interviews to raise the voices of women of colour, highlighting many traditional cultural practices that are naturally eco-friendly



"Policy makers need to listen to people like me and the people I was interviewing, people who are affected. Women of colour need to know you have a seat at the table for these conversations."
---
Heather Dundas and Menesia Keister worked together to build a low-cost, accessible pallet garden - for growing food, made from reused and easy-to-find items.
 
"You're not just enriching your life by growing something you can eat, you're enriching your life by having something that you have grown and can be proud of, something you can then share."
---
Monica Kadwe designed and built an online escape room game, that presents the player with a series of choices - giving an insight into the day-to-day impact they have on our climate.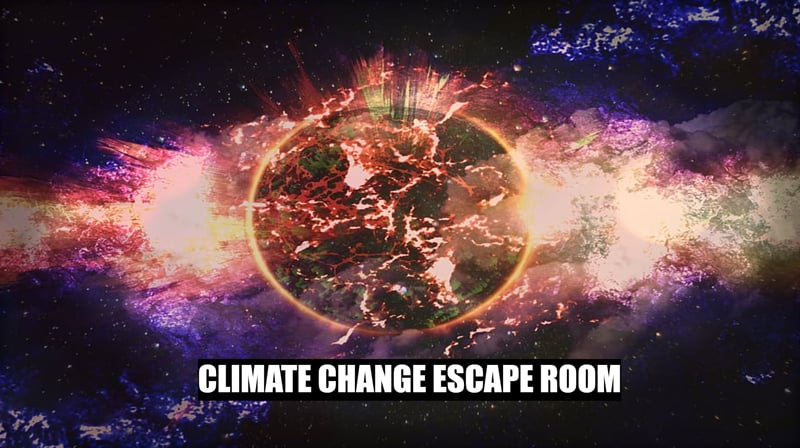 "I think gradually in families everything will start to change, but it is my responsibility to expose my kids to these things, show them the options that they can use."
---
Susy Cruse took discarded waste items and made artwork and jewellery that reflects the mythology of her home in El Salvador, providing them with a second life.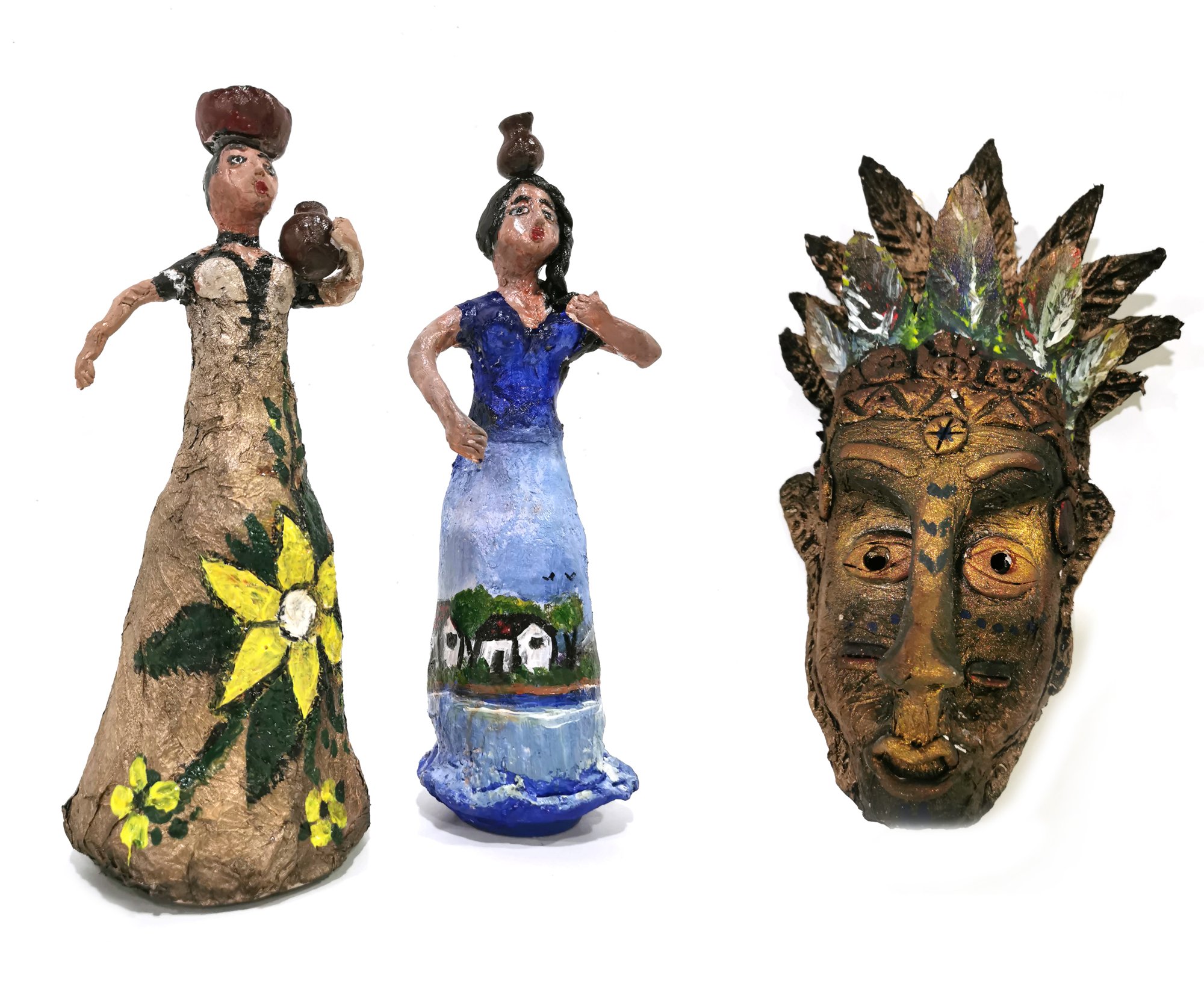 "I use my imagination, when I see a can or a bottle – I imagine how could I use this – what shape could I make with this."
---
Nguatjitavi Tjeriko created a video that illustrated simple tips to reduce our impact on climate change and underlined that organisations and governments need to do more.
 
"If we all understand and practice what we preach, and agree to do positive things to affect the climate."
---
Simran Kaur made a painting from plastic waste that highlighted the plight of farmers in India, who are forced to use pesticides and take pennies for their crops by the government.
Warning - Sensitive Content: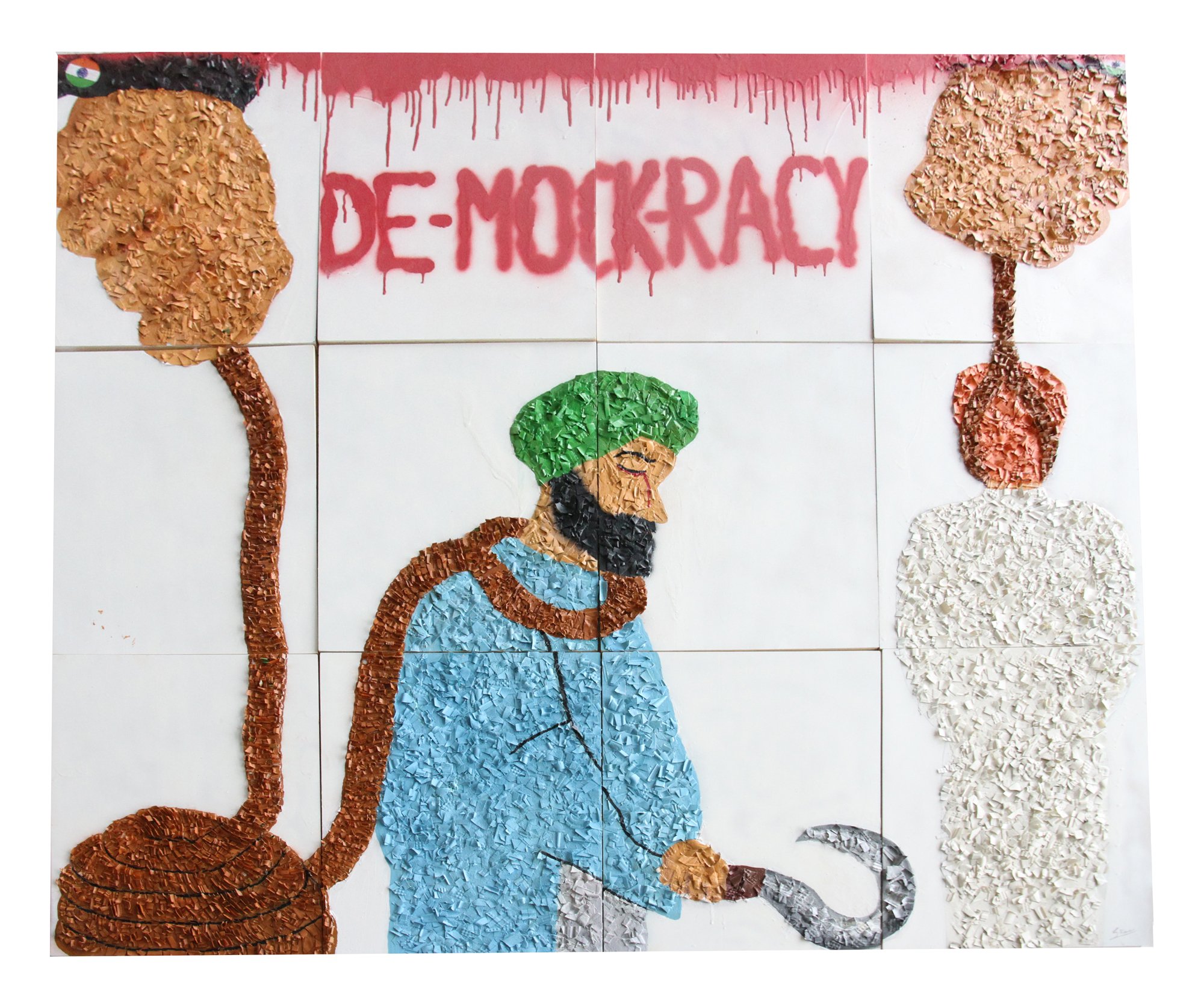 "I felt like it had to make a statement and I think it has done that. This is the first thing that I've done that's out there and it's not safe. It's not meant for everyone and I completely understand that – but you won't forget it."
---
Glasgow Science Centre's Community Learning and Exhibition Development teams put together a series of workshops and events to find out the stories behind each of the women, which became the content for the Climate Sisters exhibition that is on display in Glasgow Science Centre. As a team, we learned so much about climate change and the impacts on different people from this project and we are proud to be part of bringing these creative and compelling works to our visitors.
---
This project was funded by:


With thanks to:
Women's Environment Network (WEN) • University of Edinburgh
University of Glasgow • Gilded Lily CIC • Ahl Al Bait Society 
Exhibition funded and developed by: