Take a dramatic tour of our solar system, from the International Space Station to distant planets, and then head into interstellar space as we explore our galaxy and our place in the cosmos.
20/01/2019,23/01/2019,24/01/2019,25/01/2019,26/01/2019,27/01/2019,30/01/2019,31/01/2019,02/02/2019,03/02/2019,06/02/2019,07/02/2019,08/02/2019,09/02/2019,10/02/2019,11/02/2019,12/02/2019,13/02/2019,14/02/2019,15/02/2019,16/02/2019,17/02/2019,18/02/2019,19/02/2019,20/02/2019,21/02/2019,22/02/2019,23/02/2019,24/02/2019,27/02/2019,28/02/2019,01/03/2019,02/03/2019,03/03/2019
When is this on?
| | |
| --- | --- |
| Today | 12:00, 16:00 |
| Wednesday 23rd January | 14:00 |
| Thursday 24th January | 14:00 |
| Friday 25th January | 14:00 |
This event is available as an add-on to your admission ticket at each of the times above, but is also available to purchase as a standalone event at certain times and dates. The standalone ticket can be purchased below.
About the Planetarium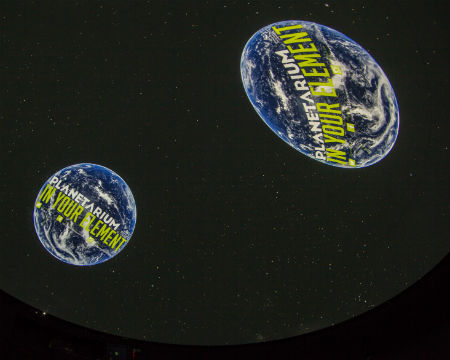 The Planetarium at Glasgow Science Centre has been upgraded to a spectacular, state-of-the-art, fulldome digital projection system (what a mouthful!). Our shows are live presenter-led or film based to take you on a journey through the solar system, into the Milky Way Galaxy and beyond, offering a truly out-of-this-world experience. Our spectacular full dome films display 360 degrees across the 15-metre hemispherical dome of the planetarium. It really is spellbinding stuff.