Join us for an unforgettable evening with three outstanding full-dome artists showcasing their incredible works. Full details of each performance are below.
OMNIS – MAOTIK
The instantaneous transmission of information – and the possibility that soon people, as well as data, will be available everywhere simultaneously – has inspired OMNIS, an immersive installation by Montréal-based Maotik. Drawing on optical illusions and other visual effects, Maotik gradually fills the darkened space with twisting, writhing patterns of light that generate an effect of expanding depth and of unending travel. As a glittering soundtrack unfolds, courtesy of composer Metametric, the dimensions of the space seem to dissolve and the viewer, too, might feel themselves destabilised as time and space seem to merge into one.
HIDDEN TOWERS – THE MACULA (UK PREMIERE)
Inspired by the writing of William Gibson, 'the father of cyberpunk', whose dystopian novels of the 1980s and 1990s (including Neuromancer and All Tomorrow's Parties) now seem like documents that have both predicted and informed our present day, Czech studio, The Macula, presents an audiovisual journey through cyberspace. An ominous drone grows as the viewer is sent on a twisting, turning 360° trip through kaleidoscopic virtual space, where just as patterns seem to become identifiable, they shift and warp once more: clouds of particles give way to infinitely complex geometrics, mysterious mechanisms and star-filled spaces.
REMOTE SENSE – JONNY KNOX
Remote Sense delves deep into our ancient past, tracing the story behind some of the world's earliest art forms. Knox's inspiration is the altered states of consciousness that ancient artists employed to visualise complex geometries and abstractions. The viewer is taken on a journey from the ancient past – through ethereal three-dimensional scans of real-life caves that were once painted in equally immersive vistas – to futuristic renderings of perspective and vanishing points. Jonny Knox's background in music, architecture and computer graphics informs this expedition through the centuries, accompanied by Darien Brito's haunting, restless soundtrack.
Saturday, 28 October 2017
The triple bill will run at 6.30pm and again at 9.00pm
Each set of three performances is 110 minutes with a 20-minute interval
Tickets to one triple bill cost £18 for adults and £9 for children/concessions
28/10/2017
When is this on?
| | |
| --- | --- |
| Saturday 28th October | 18:30, 21:00 |
This event is available as a standalone event. The tickets can be purchased below
About the Planetarium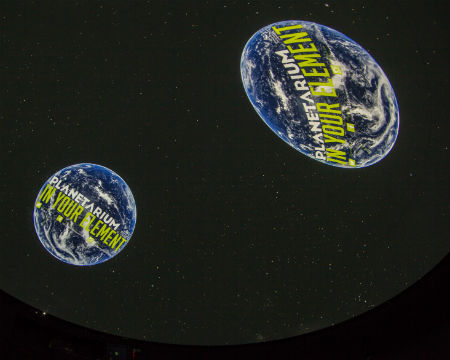 The Planetarium at Glasgow Science Centre has been upgraded to a spectacular, state-of-the-art, fulldome digital projection system (what a mouthful!). Our shows are live presenter-led or film based to take you on a journey through the solar system, into the Milky Way Galaxy and beyond, offering a truly out-of-this-world experience. Our spectacular full dome films display 360 degrees across the 15-metre hemispherical dome of the planetarium. It really is spellbinding stuff.