"Black Holes, Exoplanets and Hurricanes: Making the next generation of discoveries"

Some of the most interesting astrophysical discoveries of the past decade have come from partnerships with the public via citizen science. These discoveries include a new class of galaxies, light echoes around supermassive black holes that extend tens of thousands of light years, extrasolar planet systems that challenge our theories of how planetary systems evolve, and more. The insights and algorithms developed as a result of these discoveries are changing our understanding of the Universe as well as helping us in more practical ways here on Earth, including more accurate measures of climate change and delivering practical help to first responders in the aftermath of major natural disasters.

Dr Brooke Simmons is a Lecturer at Lancaster University. Alongside research and teaching in astrophysics, she also works in citizen science, which collaborates with members of the public to address research questions we couldn't answer otherwise. Having worked on projects from astrophysics to zoology, her favourite is probably the disaster relief project she lead on the Zooniverse, which is the world's largest and most successful citizen science platform.

Glasgow Science Centre is proud to host the David Elder Lectures in partnership with the University of Strathclyde's Department of Physics.
About the Planetarium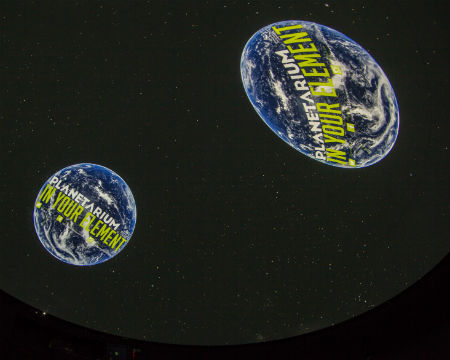 The Planetarium at Glasgow Science Centre has been upgraded to a spectacular, state-of-the-art, fulldome digital projection system (what a mouthful!). Our shows are live presenter-led or film based to take you on a journey through the solar system, into the Milky Way Galaxy and beyond, offering a truly out-of-this-world experience. Our spectacular full dome films display 360 degrees across the 15-metre hemispherical dome of the planetarium. It really is spellbinding stuff.