This sound and visual extravaganza features the entirety of Pink Floyd's seminal The Dark Side of the Moon album from 1973, accompanied by mesmeric visualisations projected across the entirety of the planetarium's immersive 15m dome. Prior to the main feature, our expert team of astronomers will take you on a tour of the night sky and beyond the dark side of the Moon in our state-of-the-art digital planetarium. Please note this event is for over 18's only. The screening begins prompt at the advertised start time and no latecomers will be admitted.


04/02/2023,18/02/2023,25/02/2023,04/03/2023,11/03/2023,24/03/2023
When is this on?
| | |
| --- | --- |
| Saturday 4th February | 17:00, 19:00 |
| Saturday 18th February | 19:00 |
| Saturday 25th February | 19:00 |
This event is available as a standalone event. The tickets can be purchased below
About the Planetarium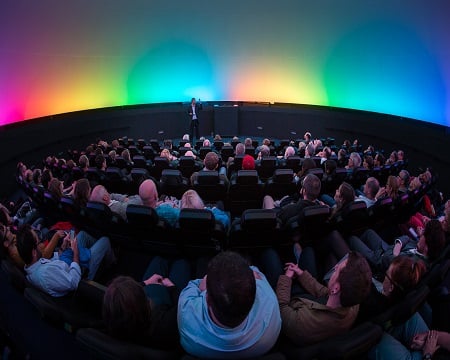 The Planetarium at Glasgow Science Centre has been upgraded to a spectacular, state-of-the-art, fulldome digital projection system (what a mouthful!). Our shows are live presenter-led or film based to take you on a journey through the solar system, into the Milky Way Galaxy and beyond, offering a truly out-of-this-world experience. Our spectacular full dome films display 360 degrees across the 15-metre hemispherical dome of the planetarium. It really is spellbinding stuff.