Idea No59
At Glasgow Science Centre we're passionate about inspiring the next generation of engineers, innovators and scientists and our new development, Idea No59, will do this along with engaging the wider community about the potential impact of exponential technologies on the individual and society.
This fantastic new exhibition will explore — through exhibitions and programming — how these technologies are shaping the future of our society.
Idea No59 is a unique, interactive educational platform designed to nurture crucial future skills. At the heart of the idea, it recognises the need of the global society to innovate, to adapt and to invent. To achieve this we need to develop a culture of innovation which inspires our young people to harness their full potential and play a key role in creating the innovations that will transform our society. 
Idea No59 will help grow the next generation of engineers and innovators by creating a physical space for extended engagement with schools, communities, families and teenagers. It aims to inspire and develop the builders of tomorrow through creative play and learning. It will also create a platform to engage the wider community in the innovations of the future, focusing on technology mega-trends and their resulting societal impact, including: 
Artificial Intelligence and Big Data
Automation, Robotics and Advanced Manufacturing
Precision Medicine and Genomic Analysis
The "Internet of Things" 
People and the Internet – how people connect with others, information and the world around them. 
Idea No59 will achieve the following:
Showcase the types of skills required for future careers. The exhibition will help students connect what they learn in the classroom with the world around them and with opportunities offered by a career in engineering, science and technology through social learning. It will also better inform parents, teachers and careers guidance professionals of the career paths available to inform practical, life changing decisions in a young person's journey.
Inspire the next generation of innovators by developing critical skills and confidence and providing opportunities for making, developing and producing — distil, design, develop, create, ignite!
Create a platform for industry to engage the wider community in a discussion about future innovations and the societal impact of these. Technology is changing at a breathtaking pace and the implications in terms of learning, jobs and our future lives can be a cause for concern for many people. Idea No59 will actively highlight the technologies being developed and what these mean for society going forward. It aims to remove some of the fear factor and promote an understanding of the "art of the possible". 
Partners
GSC is working in partnership with the Scottish Government sponsored Scottish Funding Council (SFC) to deliver Idea No59. Scotland's eight Innovation Centres, who are funded by SFC, will help GSC develop exhibition content, education and public programme and will showcase their cutting edge work within the exhibition. 

For Idea No59, GSC will be working alongside the Centre of Excellence for Sensor and Imaging Systems (CENSIS), Construction Scotland Innovation Centre (CSIC), Digital Health and Care Institute (DHI), Stratified Medicine (SMS-IC), Industrial Biotechnology Innovation Centre (IBioIC), Oil & Gas Innovation Centre (OGIC), Scottish Aquaculture Innovation Centre (SAIC) and The Data Lab. 
A group of experts from academia and industry will provide advice, guidance and direction for the new exhibition. Members include representatives from the Innovation Centres, University of Strathclyde's Advanced Forming Research Centre (AFRC), Fraunhofer Scotland, Technology Scotland and Engineering Scotland. 
An Innovative Construction Opportunity for the Idea No59 Design Studio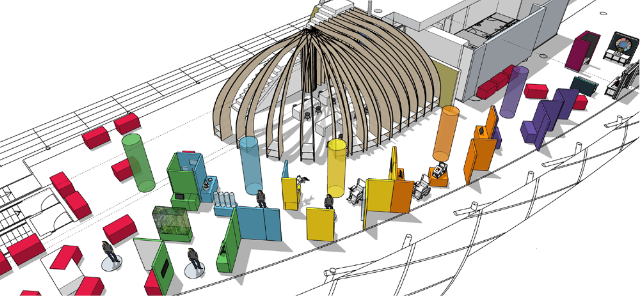 GSC is currently seeking a construction partner to help us to develop the design, engineer the structure, manufacture the components and assemble the finished Design Studio here at Glasgow Science Centre.
GSC Design Studio Invite - PDF
Our Proposal
Glasgow Science Centre will work with our public sector, academic and industry partners to develop this futuristic and innovative new space. 
The costs for the project are as follows:
Capital funding (design and build) - £1,000,000
Revenue funding (per year) - £100,000
To date, £250k has been secured for the project and we are seeking businesses to come on board as partners to help raise the remaining funds to bring the exhibition to life.  
By supporting Idea No 59 you and your organisation will be part of an innovative and informative project aimed at showcasing and promoting understanding of current and future technologies, and supporting the innovators of tomorrow. Your involvement in the exhibition will offer the following benefits: 
The opportunity to tell your story, engage with and inspire hundreds of thousands of adults and young people across Scotland and beyond 
The opportunity to showcase the work of your organisation and the difference it is making to people's lives 
The opportunity to encourage and influence future technologists and innovators 
Upskilling of staff in communication and public engagement through direct involvement with the project and engagement with our audiences 
Corporate visibility through branding on marketing, content and PR materials. 
Please get in touch if anything you read above sparks your interest as we'd love to talk to you:
stephen.breslin@gsc.org.uk