Weddings at GSC
Our Happy Couples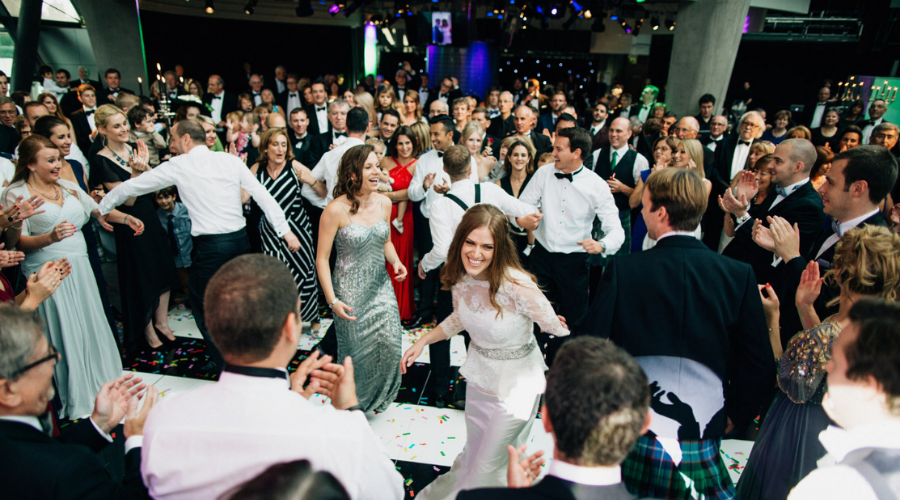 Requirement
The bride and groom were looking for a place that had some meaning to them, had a strong visual element (scenery, decoration) and also had the flexibility to allow for vegan catering. They had been visiting Glasgow Science Centre for years, both for fun and for work events. They both have scientific jobs and they felt that GSC fitted well with that aspect of their lives. The ability to have the ceremony in the Planetarium and then to have the reception overlooking the Clyde at night time would help set a fantastic atmosphere. 
What the bride said
"Our guests loved the venue telling us how unique it was and how appropriately it reflected us. They loved the use of the Planetarium and other decorative elements which had been set up by staff. Many of our guest had commented on the fun they had going around the exhibits on the 1st floor, including those with children with many ways to keep them amused. We had the most amazing day. There was a lot of planning leading up to the wedding with our Event Coordinator Laura being fantastic responding to many long winded emails from us. The day was just how we imagined, capturing all those intricate details. We are very thankful for the hard work of the team at GSC who gave us an opportunity to build a memory that we will never forget"
Robyn Childs - The Bride
Requirement
We at Glasgow Science Centre wanted to give David and Victoria the best day of their life with a wedding reception venue to rival all others. The happy couple needed a venue to hold 90 guests with a drinks reception, dinner and a ceilidh. 
What the bride said
"We had several comments about what an amazing an unusual venue we'd chosen and also about how helpful the staff were to all our guests. It truly was the most amazing day, and that was absolutely helped by the unusual nature of the venue and the amazing staff who work there"
Vikki - The Bride
Requirement
We wanted to "wow" the fantastic couple Caroline and Craig who took over the entire building with over 250 guests for their wedding. Not only did they have their stunning ceremony in our Clyde Suite, they also had fantastic photographs outside followed by an evening meal and dancing in our Atrium. 
What the bride said
"We wanted a unique venue that could handle the number of guests we were hoping to invite and for it to be based in Glasgow (We are both Glaswegians) The fact that nobody we knew had used it for their wedding was so exciting! It was modern and stylish but we could also customise it to our own ideas which allowed us to be a bit creative also. I obviously had the most wonderful day on my wedding, but everyone at Glasgow Science Centre really did make it that bit more special. To this day I still get positive comments from friends and family"
Caroline - The Bride