Now You're Talking - Public Lecture
Professor Trevor Cox (University of Salford) will discuss how the growth of tools that use voice recognition and electronic voices are influencing the acoustics of speech and what this might mean for the future.
When
Starts 18.30, Wednesday 9 October 2019
Speaker
Trevor Cox, Professor of Acoustic Engineering, University of Salford
Tickets
Tickets cost £2 per person and must be booked in advance.
Summary
Talking and singing comes naturally to most of us so it is easy to overlook how truly remarkable the voice is. Mixing biology, physics and psychology, Trevor will explore the workings of the voice looking at accents and different singing styles. The human voice has always been in flux, but over the last hundred years or so, this has been accelerated by technology. What about the future? 'Photoshop for voice' has already been demonstrated, leading to a future with #FakeSpeech. Rich in sound examples, the talk will draw on Trevor's latest popular science book, Now You're Talking.
This evening talk at Glasgow Science Centre is organised as part of the 2019 IEEE International Ultrasonics Symposium being held in Glasgow between 6 and 9 October 2019.
Agenda
18:30 – Guests arrive
18:55 – Welcome given by Zara Gladman, Public and Community Engagement Advisor, University of Glasgow
19:00 – 'Now You're Talking', Prof Trevor Cox
19:45 – Questions and discussion
22:00 – Close
About Trevor Cox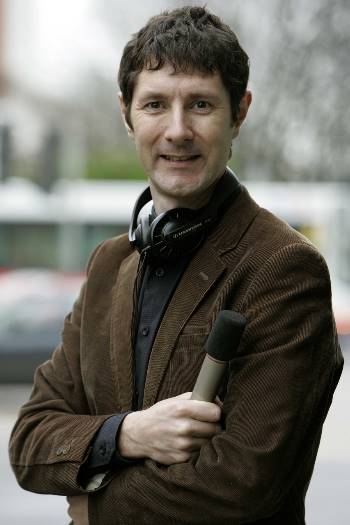 Trevor has presented numerous science documentaries on BBC Radio and written feature articles for New Scientist, Sound on Sound and The Guardian. He is the author of Sonic Wonderland for which he won an ASA science writing award.
He is fascinated by room acoustics and how places can be designed for intelligible speech (for example, classrooms) and beautiful music (for example, auditoria). His acoustic designs can be found in rooms worldwide. He is currently working on two major research projects. Making Sense of Sound is a big data project examining everyday sounds combing psychoacoustics and machine learning. The other project is investigating future technologies for spatial audio in the home. He currently holds the Guinness World Record for producing the Longest Echo, in one of the Inchindown Oil Tanks.
The Observer Says
A David Attenborough of the acoustic realm, whose knowledge is unimpeachable yet worn lightly, whose language is vivid yet without indulgence.
David Hendy